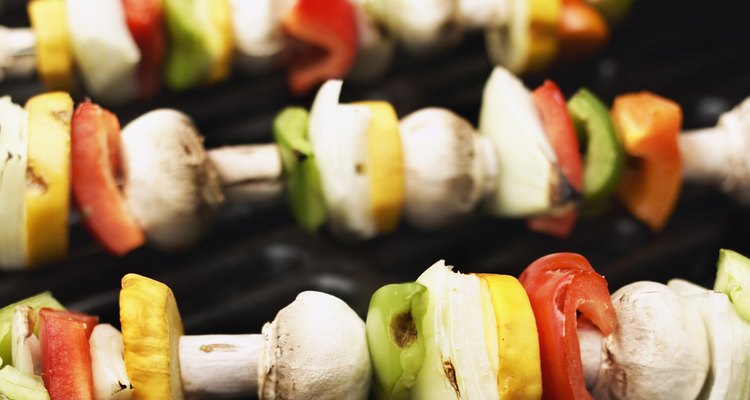 Jupiterimages/Stockbyte/Getty Images
The word "versatile" might be overused in describing certain dishes, but barbecue pork chops really are an excellent choice across a range of dining events. Whether you serve the saucy chops at a regular weekday dinner or at a special occasion with guests, the side dishes make all the difference. Almost anything goes well with barbecue pork chops, especially if you see the meal as a mood setter and the dinner plate as a work of art. When deciding what to serve with barbecue pork chops think color, flavor and texture. Add comfort or excitement where needed.
Standardize the Sides
Dinner guests smell barbecue in the oven and they reflexively expect to see certain side dishes, even when they don't know the meat is a chop and not a rib. Make Southern-style potato salad with boiled eggs, a little mustard and the usual seasonings. Top with a sprinkle of red pepper for a finishing touch. If you prefer pasta, prepare your favorite macaroni salad with a little sugar and spice for a slightly tangy taste. Make macaroni-and-cheese from scratch with layers of sharp cheddar cheese and the egg-milk mixture to bind it all together for hot and gooey goodness. Finish up with a leafy green vegetable – such as collards, spinach or kale - - or a Caesar salad sprinkled with vinaigrette for a side of healthy.
Great Grill-Worthy Sides
If you cook your barbecue pork chops on the grill, flipping and brushing with your special sauce, you will want side dishes that also cook well on the grill and make a pretty picture to arouse the palate. Corn on the cob, wrapped in foil or laid bare on the grill, is a must-have. There are no rules for grilling, so add something fruity, such as sliced apples, plantain or sweet potatoes -- or mix them all with white potato wedges and grill up a signature dish. Slide different types of vegetables on skewers to make kebabs. Alternate mushrooms, potatoes, bell peppers, pearl onions, tomatoes or allow guests to build their own. Provide sauce for drizzling or basting. Serve corn salad made with corn kernels, tomatoes, onions, black beans, diced cucumbers and seasoned to make guests reach for the lemonade.
Simplify for Southern Style
Candied sweet potatoes are a traditional part of an all-out Sunday barbecue dinner. You decide whether to add the marshmallow topping, but the sweet potatoes must be baked with sugar, butter, nutmeg and cinnamon to rise to the level of comfort food. Slip a few rind-less orange slices in the casserole dish for a tang of citrus. You can go with string beans or try something different with the barbecue. Roast asparagus stalks in the oven seasoned with only olive oil, salt and pepper. A pitcher of iced tea garnished with lemon wedges and a sprig of mint completes your table.
Spice Up the Bread
Although homemade cornbread is the bread of choice for barbecue meals -- melt butter in the pan before pouring the batter so the outside of the bread is crunchy -- choose any bread that works best for the occasion and spice up the batter. Add finely diced chili peppers, ground red pepper and whole corn kernels to biscuit or cornbread batter. Serve a platter of cheesy cornbread sprinkled with a little cayenne pepper. Serve a platter of yeasty bread sticks for the less adventurous diners.
References
Writer Bio
Gail Sessoms, a grant writer and nonprofit consultant, writes about nonprofit, small business and personal finance issues. She volunteers as a court-appointed child advocate, has a background in social services and writes about issues important to families. Sessoms holds a Bachelor of Arts degree in liberal studies.
Photo Credits
Jupiterimages/Stockbyte/Getty Images