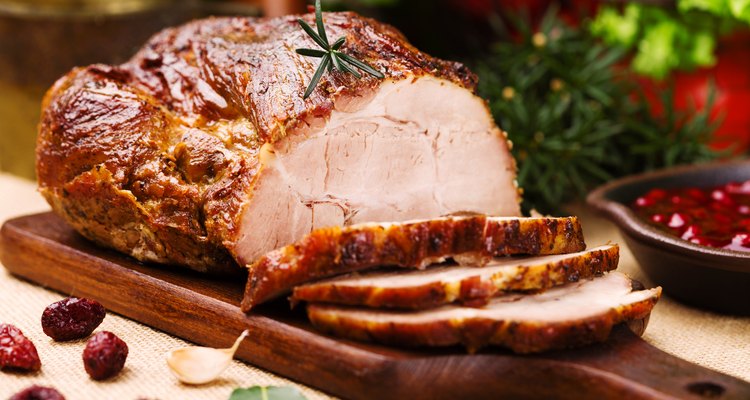 gkrphoto/iStock/GettyImages
Whether for a festive holiday meal or a quiet night at home, pork loin roast provides a tasty and adaptable center-of-the-plate option that pairs well with a variety of side dishes. To determine what to serve on the side, consider the season and any dietary restrictions of your guests. Pork loin requires a longer cooking time than some other pieces of meat — low and slow in the oven, grill or slow-cooker — so you'll have ample time to whip up your preference.
Keep in mind when shopping for pork that pork loin and pork tenderloin aren't the same thing — the loin comes from the back of the pig, while the tenderloin is from along the backbone. Pork loin is much thicker and requires a longer cooking time than the thin, quick-cooking tenderloin.
Holiday Options
Turkey and ham are so cliche. Instead, serve a pork loin roast for the next holiday season, whether Thanksgiving, Christmas, Hanukkah or New Year's. Choose seasonal ingredients to complement the loin; for example, fruit pairs well with pork, so a dish consisting of green beans with cranberries and nuts would be an ideal fit. Additionally, roasted butternut squash sprinkled with sage is a rich yet healthful side dish.
Other options for holiday side dishes include roasted potatoes (either sweet or regular), a massaged kale salad and corn casserole. The holiday season isn't the time to cut back, so enjoy a little extra cream, butter or olive oil in your side dishes.
Low-Carb and Low-Calorie Options
Choosing pork loin over pasta or potatoes for an entree? Add a side dish that won't pile on the carbohydrates. Add a side dish of mashed cauliflower — cheddar cheese optional but recommended — and Brussels sprouts roasted with bacon and garlic.
If you're focusing more on cutting back on calories versus carbs, choose a very light side dish. Roast pork loin, with its layer of fat on top, can be high in calories. A side green salad and sautéed mushrooms offer up both nutrition and flavor to offer some balance to the plate.
Seasonal Menus
Apples and squash are a natural pair with pork, but think about what to serve for dinner when it's spring or summer.
Spring: Serve roasted asparagus, fresh biscuits and a lemon cake for dessert. If you're adding barbecue sauce to that pork roast, don't hesitate to include a crunchy, creamy slaw recipe.

Summer: Pick up some fresh tomatoes, and mix well with mozzarella and basil for a caprese salad. Add grilled vegetables, such as zucchini and yellow squash. If you desire a grain, make a wild rice salad.
References
Writer Bio
Kelsey Casselbury is a freelance writer and editor based in central Maryland. Not only a freelance writer, editor, and designer, she is also a mom of a preschooler, a volunteer for two nonprofit organizations, and an avid reader, cook, and piano player. She has a bachelor's degree in journalism from The Pennsylvania State University.