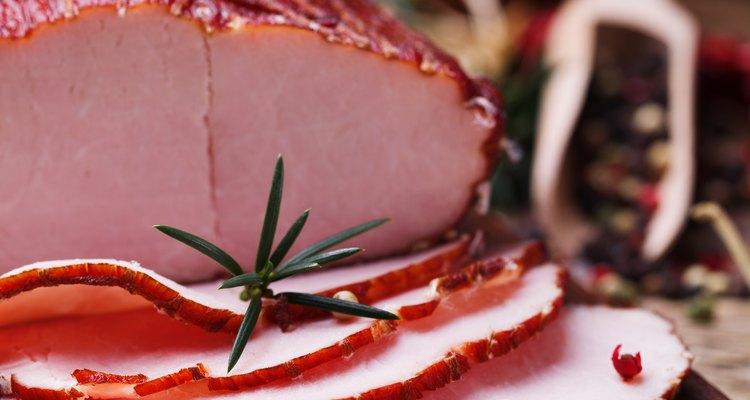 gkrphoto/iStock/GettyImages
The salty, smoky, sweet taste of baked ham makes a memorable holiday or special occasion meal. Sweet, fruity and spicy flavors highlight the flavor of the ham; choose light side dishes that complement these flavors such as simply prepared vegetables, potatoes and fresh salads. A light, easy dessert after a hearty meal leaves your diners satisfied, not stuffed.
The Ham
Baked ham is a no-fuss main course when you start with a fully-cooked, spiral-cut ham. These hams are convenient and easy to heat in a low oven while you prepare the rest of the meal. Baking the ham in an oven bag keeps the meat moist and makes clean-up minimal. Use the glaze that comes with the ham or make your own with a combination of orange juice, cola, brown sugar, honey, spices or Dijon mustard.
Salads
A rich main course like baked ham calls for a fresh, light starter. A green salad made with a combination of spinach and radicchio and lightly dressed with your favorite light creamy dressing provides a serving of greens and is light enough to leave room for the rest of dinner. A refreshing, seasonal fruit salad also makes a tasty, healthful first course.
Vegetables
Seasonal fresh vegetables taste best when simply prepared. Steamed or roasted asparagus in spring, green beans in summer and braised Brussels sprouts in fall and winter all pair well with the salty, sweet, smoky flavor of baked ham. Make a sauce for steamed vegetables by simmering roasted onion Parmesan dressing with a pat of butter until the sauce thickens. Carrots are delicious with ham and can take on some of the same seasonings as baked ham, such as brown sugar, orange juice and ginger.
Starches
Boiled or roasted new potatoes, sprinkled with fresh parsley, chives or dried seasoning mix, are an easy side dish to throw together while the ham bakes or rests after baking. Sweet potatoes are a natural partner with baked ham, but traditional candied sweet potatoes or sweet potato casseroles are high in sugar and fat. Baked sweet potatoes are a more healthful alternative that taste great when topped with a small amount of butter, cinnamon sugar or a squeeze of lime juice.
Dessert
After a big meal, serve a light, easily prepared dessert. Use angel food cake as a base for your favorite toppings, such as berries, peaches, or a drizzle of chocolate or caramel sauce. For a more decadent treat, add a scoop of light ice cream or frozen yogurt. A quick, simple fruit crisp made with apples or pears is a tasty conclusion to a fall or winter ham dinner.
References
"American Classics"; The Editors of Cook's Illustrated; 2002
"Cook's Country"; Test Kitchen's Favorite Holiday Menu; Jack Bishop, et al.; December/January 2006
"Rachel Ray 30-Minute Meals 2"; Rachel Ray; 2003
Writer Bio
Alissa Pond Mentzer worked in biotech research and educational publishing before becoming a freelance writer in 2005. She has contributed to textbooks for The Mcgraw-Hill Companies and National Geographic School Division and writes science articles for various websites. Mentzer earned a Bachelor of Arts from Rutgers University in anthropology and biological sciences.