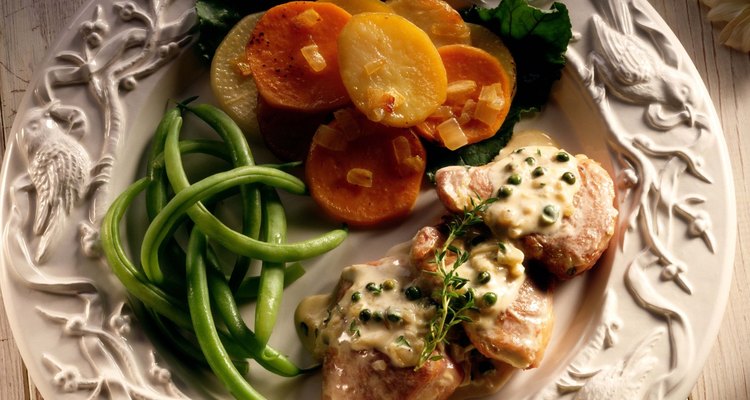 Jupiterimages/Comstock/Getty Images
Black Forest ham, named for the region of Germany where it originates, is a lightly cured and cold smoked ham product. It is usually eaten raw, sliced thin, or added as a flavoring ingredient to sauces and main dishes. Black Forest ham is often paired with asparagus, which grows in the same region of Germany.
The Ham
Since Black Forest ham doesn't need cooking, it's ready for serving cold or warmed in a casserole, or simply lightly sauteed in butter or olive oil for use as the main dish. Sauce the ham with red-eye gravy made with pan drippings and black coffee, or a sweet and sour sauce that incorporates vinegar and sugar. Thread sliced ham on skewers with pineapple chunks and grill them until the ham and pineapple are warm, or make a German comfort food meal by cooking the ham with sausages and sauerkraut sprinkled with caraway seed in a heavy skillet.
Potatoes
Boiled potatoes are a traditional German side for Black Forest ham, but German potato salad is more flavorful. Combine cooked potatoes with crisp bacon and sauteed onions and finish the dish with a sour sauce tempered by sugar. If your kids don't like strong flavors, puree cooked sweet potatoes with butter and a few tablespoons of buttermilk ranch dressing. Cut either white or sweet potatoes into uniform pieces and fry them in a combination of butter and olive oil until the edges crisp, or make potato pancakes and serve them with applesauce and creamy ranch dressing in place of sour cream.
Sides
Highlight Black Forest ham's traditional vegetable accompaniment by lightly steaming asparagus and tossing it with creamy bleu or Parmesan dressing and sprinkling it with crunchy salad toppings. If you've made sauce to go with the ham, lay a slice of ham on fresh spinach leaves and ladle the sauce over it. Make a cool side dish by chopping peeled, seeded cucumber and combining it with dill dip or tossing shredded cabbage with coleslaw dressing. Splurge on pumpernickel or rye rolls from the bakery and serve them with chilled butter or flavored cream cheese.
Casseroles
Add cubes of ham to a cheesy potato or broccoli casserole, pasta dish or macaroni and cheese to turn it into an easy main dish meal. If your family loves scalloped potatoes, cube the ham and mix it into the sauce. On a busy night when you're scrambling to get dinner on the table, add the ham to packaged scalloped or au gratin potatoes. Substitute ham for the tuna in noodle casserole, or make a creamy sauce, add ham and pour it over cheese ravioli. Top either dish with crushed croutons for texture. .
Resources
Writer Bio
Diane Watkins has been writing since 1984, with experience in newspaper, newsletter and Web content. She writes two electronic newsletters and has a Bachelor of Science degree in chemistry from Clemson University. She has taken graduate courses in biochemistry and education.
Photo Credits
Jupiterimages/Comstock/Getty Images