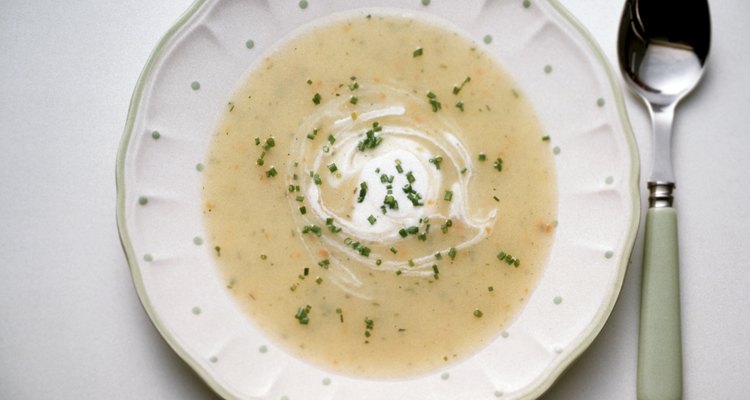 Eising/Photodisc/Getty Images
If you think cream of potato soup is only good for pairing with sandwiches, you're missing out on a way to turn up the flavor on a dull dinner. From adding zesty ingredients to basic soup to creating savory casseroles and pies, cream of potato soup is a versatile staple to have on hand. Inexpensive yet hearty, cream of potato soup can be the basis for a variety of dinner recipes that wow your family and friends.
Soup It Up
Start with a basic can of cream of potato soup and stir in creative combinations of your favorite foods for a complete dinner. Try making loaded baked potato soup by topping soup with bacon, onion, cheese, chives and sour cream. Turn potato soup into clam chowder by stirring in a can of undrained minced clams. Or create a quick corn and crab bisque by adding white crab meat, cream style corn and Cajun spice mix to potato soup. If you're a meat lover, toss in cooked sausage, bacon, ground beef or a combination.
Casserole Convenience
Cream of potato soup really shines when used as the basis for casseroles. For easy scalloped potatoes, combine cream of potato soup and cream of mushroom soup along with sliced potatoes and half-and-half, then bake. Beef, potatoes and onion are another winning combination baked into a casserole pan. Or combine sausage or ham, hash browns, sour cream and cheese with soup for a child-pleasing casserole.
The Pie is the Limit
Cold-weather staples like chicken pot pie and shepherd's pie may sound like a hassle, but cream of potato soup makes them a snap. For chicken pot pie, stir potato soup together with cubed chicken, chopped vegetables and spices and cook until hot, then top with canned biscuits and bake until they're golden brown. Shepherd's pie combines browned ground turkey, beef or vegetarian crumbles with frozen corn or green beans and onion, topped with a layer of mashed potatoes.
Sandwich in Some Fun
Although cream of potato soup makes a great duo served with sandwiches, it can also jazz up open-faced sandwiches. Try creamed tuna and potato soup on toast. Spice up soup with cheese and serve over an open-faced hamburger. Add in a little canned gravy or canned mushrooms and pour over turkey or chicken. The creamy texture of the soup makes it a natural for pouring over traditional southern fried steak or fried chicken sandwiches.
References
Writer Bio
Bonnie Singleton has been writing professionally since 1996. She has written for various newspapers and magazines including "The Washington Times" and "Woman's World." She also wrote for the BBC-TV news magazine "From Washington" and worked for Discovery Channel online for more than a decade. Singleton holds a master's degree in musicology from Florida State University and is a member of the American Independent Writers.
Photo Credits
Eising/Photodisc/Getty Images