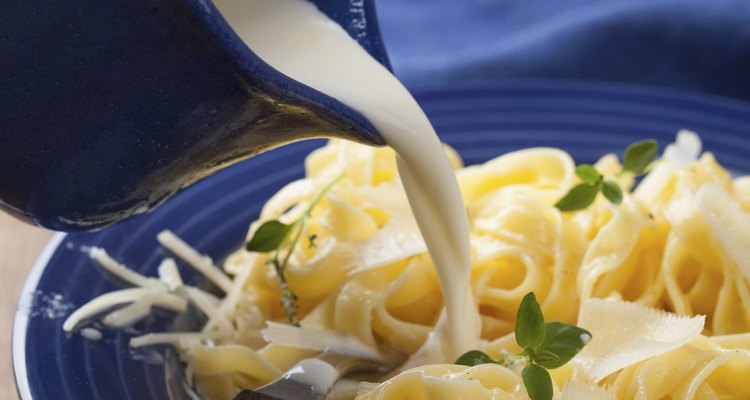 OlgaMiltsova/iStock/Getty Images
A can of soup, a jug of cream, a dash of seasoning, some fresh veggies and a bit of your creativity combine to make a pasta dish to set your family and guests drooling. Topped with crunchy panko in a casserole, poured over fettuccine or mixed with cheese and macaroni, cream of chicken soup makes quick meals a snap.
Family Casserole
If you have picky eaters in your family, try a simple casserole. In salted water, cook enough wide egg noodles -- or eggless if you prefer -- to fill a medium-sized deep casserole dish. Drain the noodles into the dish and add a can of soup and an equal amount of half-and-half. Toss in some chopped onion, diagonally sliced celery, cubes of cooked chicken and a small can of drained, sliced black olives. The mixture should be slushy but not thin. Plunge a wooden spoon in the center of the dish and if the liquid pools around the spoon, your mixture is ready. For an even creamier dish, use cream instead of half-and-half. Top with a layer of panko or breadcrumbs sprayed with olive oil for a crusty topping. Bake in a medium oven until mixture has thickened and topping is browned.
Faux Fettuccine Alfredo
Fettuccine Alfredo is no longer daunting when you fake it with cream of chicken soup. Saute some minced garlic in a couple of tablespoons of butter until it is soft but now browned. Stir in a half can of cream of chicken soup and enough half-and-half to make a thick sauce. Slowly add fresh shredded Parmesan cheese -- the canned stuff tends to clump -- stirring constantly and scraping the side of the pan. When you reach the desired consistency, remove the pan from the heat and keep stirring for a while to ensure that it doesn't curdle. Pour the sauce over individual servings of fettuccine noodles, or toss it with the noodles in a serving dish. Add chunks of grilled chicken and offer freshly ground pepper.
Hamburger Stroganoff
Start with lean ground beef -- or steak strips if your budget allows -- minced garlic and coarsely chopped onion. Saute everything together over medium heat. Drain off fat and add some sliced fresh mushrooms. This would be the time to add a little wine for the mushrooms to absorb. If not, you may need some water, so plump them up. Dump in a can of cream of chicken soup and several dollops of sour cream, a key ingredient in Stroganoff. Gradually add milk or half and half to thin the mixture to a medium thick and creamy sauce. Garnish with a sprinkle of chopped parsley and a light dusting of paprika and serve it over flat noodles.
Italian Style
Go Italian by using rotini pasta as the curves in the spiral shape traps little bits of herbs, spices and vegetables along with the sauce. Season a generous mixture of chopped fresh vegetables -- starting with garlic and onions, of course -- such as zucchini, mushrooms, and green peppers with dried Italian seasoning and saute the whole bunch in olive oil until it is tender. Stir in a can of cream of chicken soup and milk sufficient to make a cream sauce. Toss in some chopped grilled chicken -- and perhaps a little white wine -- and stir. Serve over cooked rotini pasta, garnished with chopped fresh oregano fresh ground pepper.
References
The New Food Lover's Companion; Sharon Tyler Herbst; page 666
Writer Bio
Raechel Donahue is an author, journalist and former features editor of the Brentwood News. Her specialties include travel, food and film. She performs a weekend show on BossBossRadio.com, runs a travel website and has written, produced and directed several PBS documentaries. A native Californian, Donahue currently lives in France.
Photo Credits
OlgaMiltsova/iStock/Getty Images