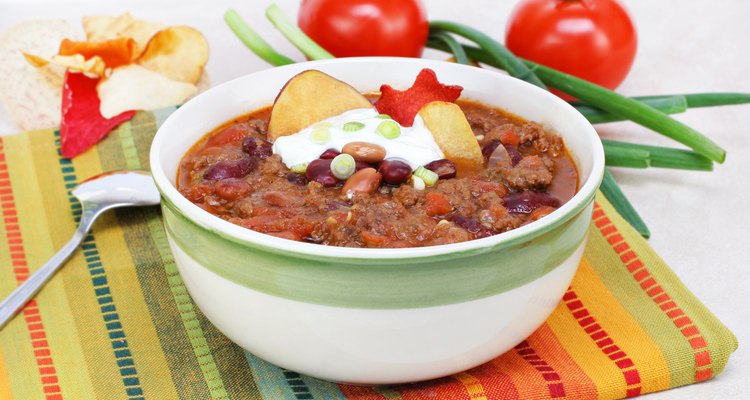 rojoimages/iStock/GettyImages
The Plentiful Flavors and Textures of Taco Soup
A flavorful taco soup offers you a one-pot meal, saving time and energy in the kitchen. Prepared ingredients bring the soup together in a hurry, making it so easy that it can become one of your go-to weeknight meals.
This version of taco soup uses diced chicken, but you can substitute ground beef or ground turkey if that works better for your family. If you've never had an avocado warmed in the soup, you'll be surprised at how perfectly its creamy texture balances the chunky ingredients in the soup. Don't skip the lime juice added just before serving to bring the soup to life!
Total Time: 30 minutes | Prep Time: 15 minutes | Serves: 4 to 6
2 tablespoons oil
3 chicken breasts cut into large diced pieces
5 cups chicken stock
1 15-ounce can crushed tomatoes
1 16-ounce container of salsa
1 1-ounce package unsalted taco seasoning
1 15-ounce can of black beans
1 lime, juiced
1 avocado diced
1 cup sour cream
3 cups roughly crushed tortilla chips
1/4 cup roughly chopped cilantro leaves
In a large pot, add the oil and cook the diced chicken until it is no longer pink when you cut into a piece, about 8 minutes.
Using the same pot, add the chicken stock, crushed tomatoes, salsa, beans and taco seasoning, and cook uncovered until everything is completely warmed, about 15 minutes. Add the lime juice to the pot just before serving.
Into each soup bowl, place the avocado chunks, and ladle the soup over the top.
Top each bowl with a tablespoon of sour cream, a handful of tortilla chips and a sprinkling of cilantro leaves.
Writer Bio
Susan Lundman began writing about her love of cooking, ingredient choices, menu planning and healthy eating after working for 20 years on children's issues at a nonprofit organization. She has written about food online professionally for ten years on numerous websites, and has provided family and friends with homemade recipes and stories about culinary adventures. Lundman received her M.A. from Stanford University.