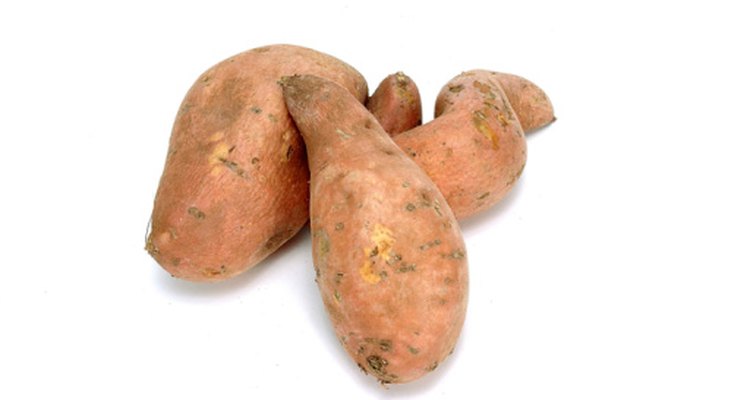 Ablestock.com/AbleStock.com/Getty Images
With plenty of vitamins and minerals -- and a high amount of fiber -- sweet potato soup provides a healthy and satisfying dinner on cool fall or winter evenings. Serve it with a green salad tossed with your favorite vegetables and crusty bread spread with roasted garlic instead of butter.
Basic Soup
Make a 2-cup serving of soup by blending together 1 medium boiled sweet potato, at 115 calories; 1 cup of 1 percent milk, at 118 calories; and 1 cup chicken broth, at 38 calories. The total calorie count is 271.
Nutrition
The 115 calories in 1 medium sweet potato come from 4.49 g of protein, 0.46 g of fat, 8.2 g of fiber, 18.8 g of sugar and 17.12 g of starch.
Adding Other Ingredients
Using heavy cream for a soup increases the taste appeal, but also adds calories. A 2-cup serving of soup made with both sweet potatoes and white potatoes, cooked with chicken broth and a splash of whipping cream, contains 373 calories.
References
Writer Bio
Susan Lundman began writing about her love of cooking, ingredient choices, menu planning and healthy eating after working for 20 years on children's issues at a nonprofit organization. She has written about food online professionally for ten years on numerous websites, and has provided family and friends with homemade recipes and stories about culinary adventures. Lundman received her M.A. from Stanford University.
Photo Credits
Ablestock.com/AbleStock.com/Getty Images