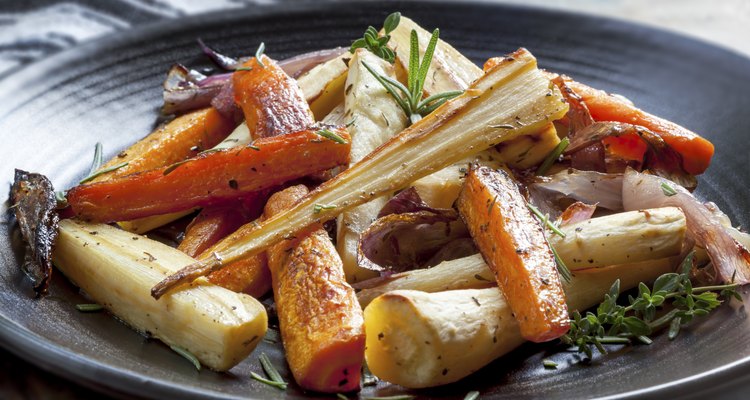 robynmac/iStock/Getty Images
Winter root vegetables can provide nutrition from local sources during cold weather, and slow cooking is a simple, easy way to prepare them. Slow cookers help busy cooks get a meal on the table with little fuss. Winter root vegetables such as turnips, rutabagas and carrots can be cooked in a slow cooker with a minimal amount of fat. According to the book "Recipes from the Root Cellar," root vegetables are a low-calorie source of fiber. "The New York Times" reports that rutabagas are a good source of potassium and vitamin C; parsnips provide folate, calcium, potassium and fiber; and carrots contain beta carotene.
Combine the assorted winter root vegetables, garlic, olive oil, vinegar, salt and pepper in a slow cooker. Examples of winter root vegetables are rutabaga, celeriac -- or celery root -- carrots, turnips, parsnip, parsley root and beets. Stir to combine.
Cover with a lid. Turn the slow cooker on to the low- or high-heat setting.
Cook on low for eight hours or high for three to four hours. The vegetables are done when they are tender but not mushy or falling apart.
Transfer the vegetables from the slow cooker to a large serving platter. Sprinkle with parsley and chives. Serve hot.
References
"Fresh from the Vegetarian Slow Cooker"; Robin Robertson; 2010
"Your Mother's Slow Cooker Cookbook"; Beth Hensperger, et al.; 2004
"The Gourmet Slow Cooker: Volume II"; Lynn Alley; 2006
"Recipes from the Root Cellar"; Andrea Chesman; 2010
Resources
"The Kitchen Gardener's Handbook"; Jennifer R. Bartley; 2010
Writer Bio
Sarah Bourque has been a freelance writer since 2006 and is based in the Pacific Northwest. She writes and edits for the local publisher, Pacific Crest Imprint and has written for several online content sites. Her work recently appeared in "The Goldendale Tourism and Economic Development Magazine" and "Sail the Gorge!" magazine. She attended Portland Community College where she studied psychology.
Photo Credits
robynmac/iStock/Getty Images