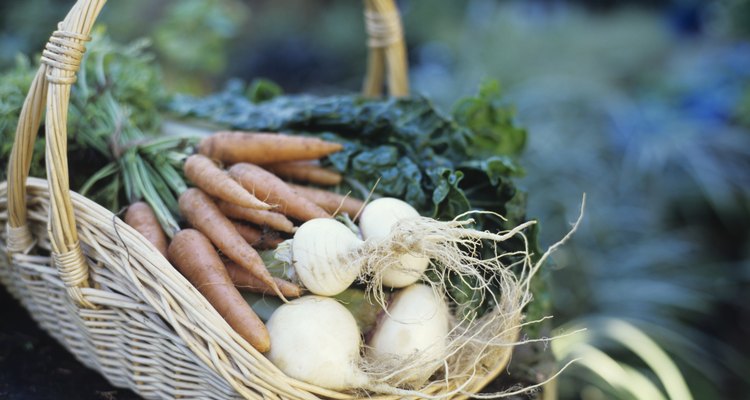 George Doyle/Stockbyte/Getty Images
Succulent pork chops combined with your choice of colorful, lightly seasoned vegetables and summer squash cook up tender and delicious in your slow cooker. This hearty dish, which goes together in just minutes, is good enough for a busy weekday or a special, sit-down dinner with guests. Look for thick, pale pink chops with a small amount of white fat, which indicate the chops are fresh. Serve this hot dish with fresh, warm bread and a tossed green salad for an impressive, nearly effortless meal.
Step 1
Combine salt, pepper and other herbs and spices, such as thyme, parsley, basil or garlic powder, in a small mixing bowl.
Step 2
Heat a small amount of olive oil or cooking oil in a heavy skillet over medium-high heat. Sprinkle half the seasoning mixture over the pork chops. Brown both sides of the chops in the hot oil, turning them only once.
Step 3
Place the browned pork chops in the bottom of the slow cooker.
Step 4
Chop your choice of vegetables, such as small red potatoes, carrots, parsnips, turnips, sweet potatoes and onion wedges, into chunks measuring about 1 to 1 1/2 inches in diameter. Arrange the vegetables on top of the pork chops.
Step 5
Cook the pork chops and vegetables on low heat for 3 to 4 hours.
Step 6
Slice a zucchini or other summer squash, if desired, and place in a mixing bowl. Sprinkle the remainder of the seasoning mixture over the squash, then stir lightly so the squash is evenly covered. Arrange the squash over the mixture in the slow cooker.
Step 7
Turn the slow cooker on high power, then cook the chops and vegetables for an additional 10 to 15 minutes, or until the squash is tender. The pork chops are done when a meat thermometer inserted into the thickest park of the meat registers at least 150 degrees Fahrenheit.
References
The Deluxe Food Lover's Companion; Sharon Tyler Herbst and Ron Herbst
Writer Bio
M.H. Dyer began her writing career as a staff writer at a community newspaper and is now a full-time commercial writer. She writes about a variety of topics, with a focus on sustainable, pesticide- and herbicide-free gardening. She is an Oregon State University Master Gardener and Master Naturalist and holds a Master of Fine Arts in creative nonfiction writing.
Photo Credits
George Doyle/Stockbyte/Getty Images