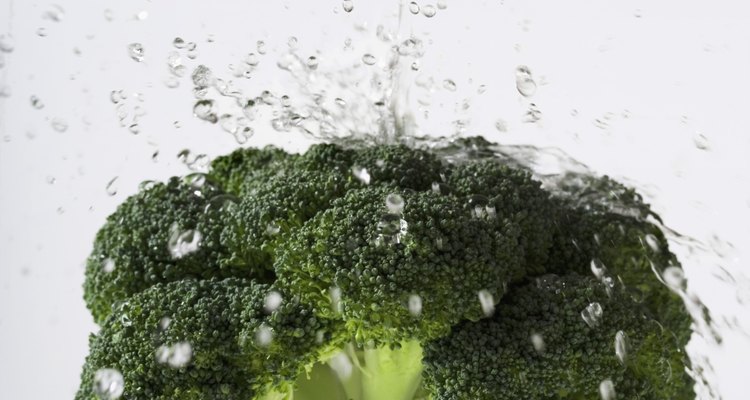 Polka Dot Images/Polka Dot/Getty Images
Even when you're going non-stop and your day is jam-packed with activities, you can prepare a satisfying meal with the help of your slow cooker. Combine the ingredients for a creamy broccoli and rice casserole in only about 10 minutes, then forget about dinner for a few hours while the slow cooker does the work for you. This dish is versatile, so adjust the ingredients to suit your preferences.
Step 1
Coat the slow cooker with nonstick cooking spray and place uncooked long-grain white rice in the cooker. As a general rule, use about 1 1/2 cups of rice for a six-serving casserole.
Step 2
Grate a generous amount of cheese such as cheddar, Monterey Jack, or a combination of cheeses. Layer half of the cheese on top of the rice.
Step 3
Arrange fresh broccoli florets on top of the cheese. Alternatively, use thawed, frozen broccoli. If desired, you can also add chopped vegetables such as onion, green peppers or celery, or thinly sliced carrots or mushrooms.
Step 4
Spread two cans of condensed soup such as cream of mushroom, celery or chicken over the vegetables.
Step 5
Pour a can of chicken broth around the inside edges of the slow cooker. If desired, add a small amount of white wine. Don't stir the ingredients.
Step 6
Sprinkle the remaining grated cheese on top of the ingredients.
Step 7
Cover the slow cooker and cook the broccoli and rice casserole until the rice is tender. Cook the casserole approximately 6 hours on low heat or 3 to 4 hours on high heat.
Step 8
Stir the ingredients, then add salt and pepper to taste, if necessary. Serve the casserole hot.
References
Writer Bio
M.H. Dyer began her writing career as a staff writer at a community newspaper and is now a full-time commercial writer. She writes about a variety of topics, with a focus on sustainable, pesticide- and herbicide-free gardening. She is an Oregon State University Master Gardener and Master Naturalist and holds a Master of Fine Arts in creative nonfiction writing.
Photo Credits
Polka Dot Images/Polka Dot/Getty Images