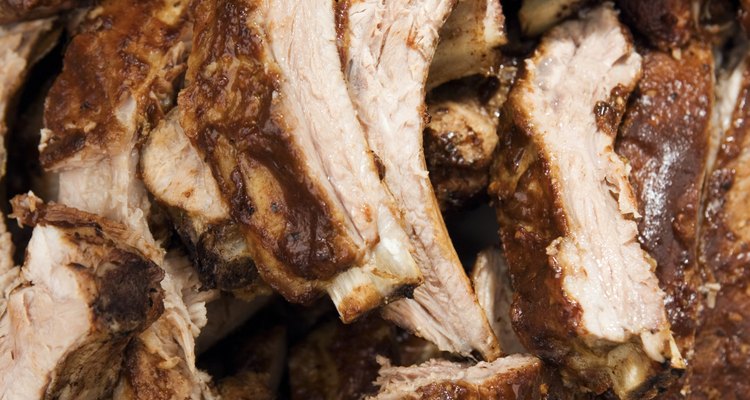 Jupiterimages/Stockbyte/Getty Images
Slow cookers are often associated with winter comfort foods like soups, pot roasts and stews, but using them for summer meals is a good way to keep your kitchen cool. The slow cooker cooks food with moisture over a long period of time, which keeps lean meats like country-style pork ribs -- a summer favorite -- tender. Cooking country-style ribs in a slow cooker takes 6 hours or longer, so you can put them on and go about your day knowing dinner will be ready when you get home.
Cooking the Ribs
Season the country style ribs with salt and pepper. Place the ribs on a broiler pan or into a saute pan with cooking tongs or a spatula.
Place the broiler pan under the broiler and broil the ribs 4 inches below the heating element until browned, about 7 to 10 minutes. Alternately, sear the ribs in a small amount of oil on the stove top until brown. Transfer the ribs to the slow cooker.
Mix the onions, canned tomatoes or tomato sauce, brown sugar and soy sauce in a mixing bowl. Pour contents of mixing bowl over the ribs.
Cook the ribs on low heat for six to eight hours. The ribs are finished cooking when the internal temperature is 145 F.
Transfer ribs to a serving platter and allow to rest for 4 minutes before eating.
References
Tips
Browning ribs under the oven broiler or in a saute pan on the stove top before cooking in the slow cooker gives them a richer flavor and color, but it isn't required.
Make a sauce to serve with the ribs from the juice in the slow cooker after the ribs have cooked. Skim the fat from the liquid, then pour the liquid into a saucepan. Bring the cooking liquid to a boil and cook until it is reduced by half.
Opt for healthier ingredients by using low or reduced-sodium canned tomatoes, tomato juice, tomato paste and soy sauce, and sugar-free apple juice.
Warnings
Frozen ribs will not reach a safe temperature quickly enough in a slow cooker, so thaw them first.
Leave the lid on the slow cooker while the ribs are cooking. Each time the lid is removed, the temperature inside the slow cooker falls by 10 to 15 F, slowing the cooking time by 30 minutes.
Don't reheat leftovers in a slow cooker. Reheat the ribs on the stove or in the microwave and then keep them warm in the slow cooker at 140 F.
Writer Bio
KW Schumer is an award-winning newspaper editor, reporter and writer with more than 15 years of experience working for large, mid-sized and community newspaper companies. She also writes the food blog Chef HJ's Table with her husband, a professional chef and the director and chef-instructor of a culinary school.
Photo Credits
Jupiterimages/Stockbyte/Getty Images