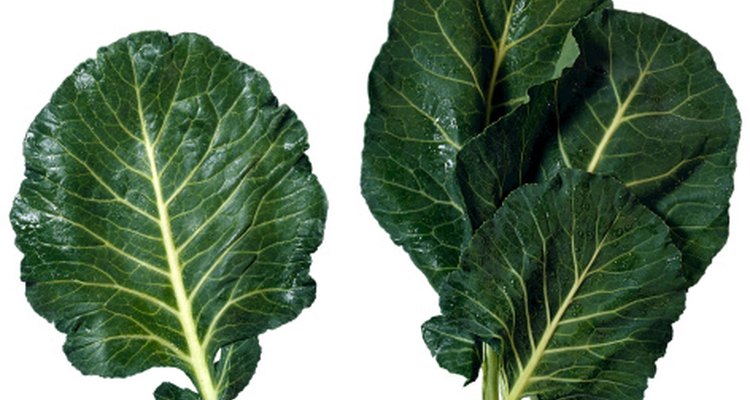 Brand X Pictures/Brand X Pictures/Getty Images
collard greens are in the same family as cabbage and broccoli, grown for their large, edible leaves. Collard greens leaves are rich in vitamin C and high in fiber, with a flavor similar to that of kale. While you can eat collard greens raw, cooking them will enhance their flavor and soften their consistency. Combine the flavor of collard greens with ham and bacon to produce a rich, meaty dish. To cook collard greens in a Crockpot, allow for at least three and one half hours.
Combine the smoked ham meat and slices of bacon in a skillet. Cook over high heat until the bacon is crispy, stirring frequently. As the bacon crisps, break it into pieces approximately 1-inch in length.
Pour the ham hock meat, bacon and bacon drippings into the Crockpot. Add the collard greens and stir to coat in the bacon drippings.
Add the ground black pepper, salt and water to the Crockpot. Stir to blend the water, seasonings and bacon drippings with the meat and greens.
Cover the Crockpot. Leave the collard greens to cook for seven hours on low or three hours on high. Serve while hot.
References
"Cooking Basics for Dummies"; Bryan Miller, Marie Rama and Eve Adamson; 2011
"Greens Glorious Greens: More than 140 Ways to Prepare All Those Great-Tasting, Super-Healthy, Beautiful Leafy Greens"; Johnna Albi and Catherine Walthers; 1996
Tips
If the collard greens are not flavorful enough for you, add a dash of hot sauce or red wine vinegar.
Writer Bio
Serena Styles is a Colorado-based writer who specializes in health, fitness and food. Speaking three languages and working on a fourth, Styles is pursuing a Bachelor's in Linguistics and preparing to travel the world. When Styles isn't writing, she can be found hiking, cooking or working as a certified nutritionist.
Photo Credits
Brand X Pictures/Brand X Pictures/Getty Images