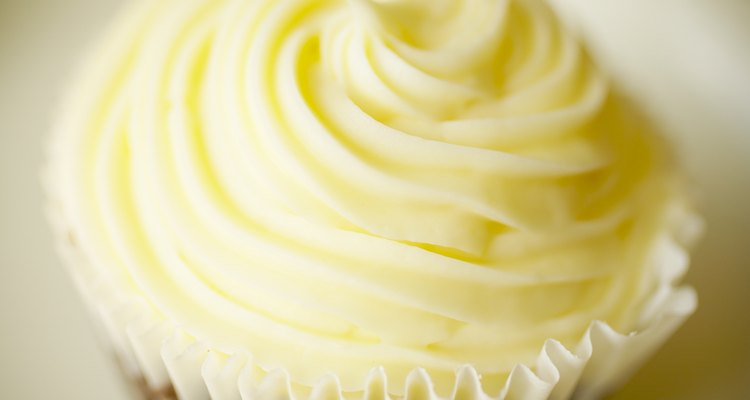 Jupiterimages/Photos.com/Getty Images
Classic cake frostings -- buttercream made with powdered sugar, butter and milk, for instance, or egg whites sweetened with granulated sugar and whipped to an airy froth -- call for large amounts of sugar and tend to be very sweet. Frosting made from a base of flour and milk calls for about half the amount of sugar, making it less sweet yet still as fluffy -- and delicious on cakes, cupcakes or cookies.
Step 1
Make a paste with the flour and milk in a saucepan and blend well. Use a ratio of 5 tablespoons of flour to 1 cup of whole milk or half and half. Cook the flour and milk mixture over medium heat for five to 10 minutes, whisking constantly, until it boils.
Step 2
Continue boiling and whisking for about another minute, until it is the consistency of a heavy cake batter. Remove the pan from the heat and allow the flour and milk mixture to come to room temperature.
Step 3
Using a ratio of 1 cup sugar to 2 sticks of softened butter, place both ingredients in the large bowl of the food mixer and cream together until they are light and fluffy.
Step 4
Continue beating at medium speed while adding the cooled flour and milk mixture 2 to 3 tablespoons at a time. Beat about 20 to 30 seconds after each addition, and add the vanilla. Beat for about two more minutes until fluffy.
References
Tips
To make chocolate-flavored icing with all-purpose flour, add about 8 ounces of melted and cooled dark chocolate to the cooled milk and flour mixture. Blend thoroughly before gradually adding it to the sugar and butter.
Writer Bio
Rachel Lovejoy has been writing professionally since 1990 and currently writes a weekly column entitled "From the Urban Wilderness" for the Journal Tribune in Biddeford, Maine, as well as short novellas for Amazon Kindle. Lovejoy graduated from the University of Southern Maine in 1996 with a Bachelor of Arts in English.
Photo Credits
Jupiterimages/Photos.com/Getty Images