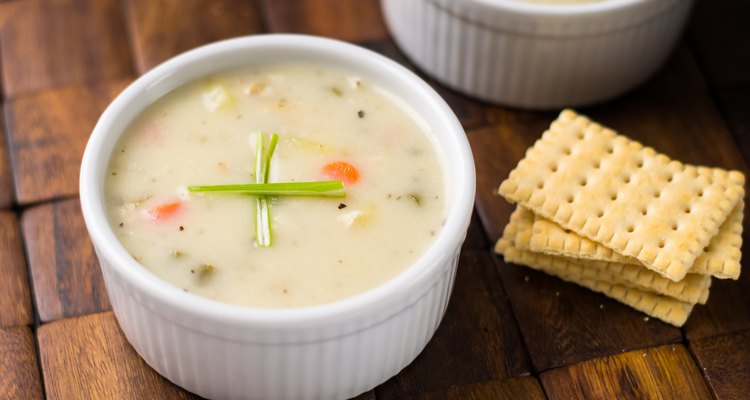 Louno_M/iStock/GettyImages
How to Make Cream of Chicken Soup from Scratch
Cream of chicken soup is the ultimate in comfort food, rich, filling and somewhat decadent, yet also very simple fare with its familiar, kid-friendly ingredients. As with many recipes, a homemade version is superior to the canned stuff in terms of flavor, quality of ingredients and versatility, as it's easily customized according to the kinds of chicken and vegetables you wish to use, and in what amounts. This recipe calls for cooked chicken, which could be white or dark meat or both. It could be leftovers or some boneless pieces diced and quickly sauteed especially for this soup.
Total Time: 45 minutes | Prep Time: 10 minutes | Serves: 6 to 8
1 tablespoon olive oil
6 tablespoons butter, divided
1 large onion, diced
3 celery sticks, diced
2 large carrots, diced
3 cloves garlic, minced
1/2 cup all-purpose flour
4 cups chicken broth

4 cups whole milk

3 cups cooked chicken, diced or shredded
1 cup frozen peas
1 teaspoon dried parsley
1/2 teaspoon dried thyme
salt and pepper
In a large saucepan over medium heat, melt 2 tablespoons of the butter with the olive oil. Add the onion, celery and carrots and saute them, stirring often with a wooden spoon until they're softened and the onions are translucent, approximately 10 minutes.

Add the garlic and cook, stirring, for 1 to 2 minutes.
Turn the heat down to medium-low and add the remaining 4 tablespoons of butter and all of the flour to the pan. Stir to blend the butter, flour and vegetables, and continue to stir everything gently, scraping the bottom of the pan to prevent sticking, for 2 to 3 minutes.
While stirring, slowly pour the broth and milk into the pan. Turn the heat up to medium and continue stirring as the liquid comes to a simmering point. Continue to stir regularly as the soup thickens while it simmers for about 5 more minutes.
Add the chicken, peas, parsley and thyme to the soup. Add salt and pepper to taste.
Simmer the soup for 10 more minutes, stirring occasionally, then serve it.
Adapted From: Food Network
References
Writer Bio
Joanne Thomas has worked as a writer and editor for print and online publications since 2004. Her writing specialties include relationships, entertainment and food, and she has penned pieces about subjects from social media tools for Adobe to artists' biographies for StubHub. Thomas has also written for such names as Disney, Hyundai, Michelob and USA Today, among others. She resides in California and holds a bachelor's degree in politics from the University of Bristol, U.K.