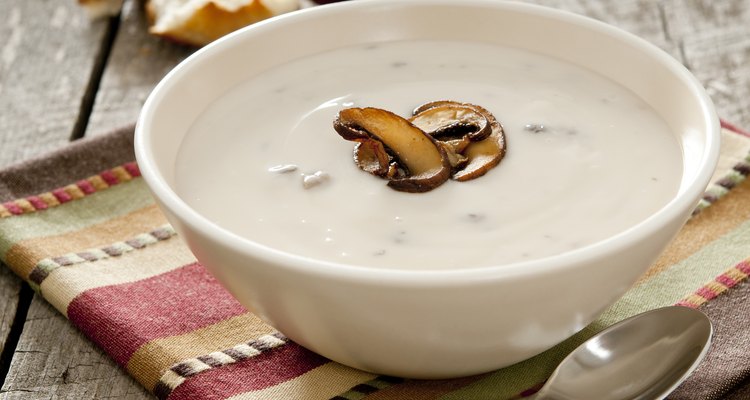 cobraphoto/iStock/GettyImages
Autumn Classics: Cream of Mushroom Soup
Autumn brings with it the earthy delight of fresh mushrooms, an occasion best celebrated with a creamy, from-scratch mushroom soup. Crimini, hen of the woods, shiitake, chantarelles and more pack farmers market bins and boxes, practically begging you to take them home. But for a soup that exudes the woodsy soul of the humble 'shroom, the ubiquitous, inexpensive white button variety works best. Their rustic, simple taste and fragrance produces a flavor so intense and "real," canned soups can't compete.
Total Time: 40 minutes | Prep Time: 20 minutes | Serves: 4
1/4 cup plus 1/2 tablespoon butter

1 medium onion, diced
1 pound mushrooms, stems removed and roughly chopped

2 tablespoons all-purpose flour
3 cups vegetable stock or chicken broth
Kosher salt, to taste
1 tablespoon thyme, freshly chopped

Freshly ground black pepper, to taste

3/4 cup heavy cream or 1 1/2 cups of light cream

Melt the butter in a large saucepan over medium heat. Add the onions and mushrooms, and saute until the onions are golden brown and the liquid from the mushrooms has evaporated, about 10 minutes.

Stir in the flour, and cook until it turns blond, about 3 to 4 minutes. Add the stock, and whisk to combine. Season to taste with kosher salt.
Simmer the soup for 15 to 20 minutes. Puree the mushroom soup using a stick blender, and then stir in the thyme, freshly ground black pepper and cream.

References
Writer Bio
A.J. Andrews' work has appeared in Food and Wine, Fricote and "BBC Good Food." He lives in Europe where he bakes with wild yeast, milks goats for cheese and prepares for the Court of Master Sommeliers level II exam. Andrews received formal training at Le Cordon Bleu.