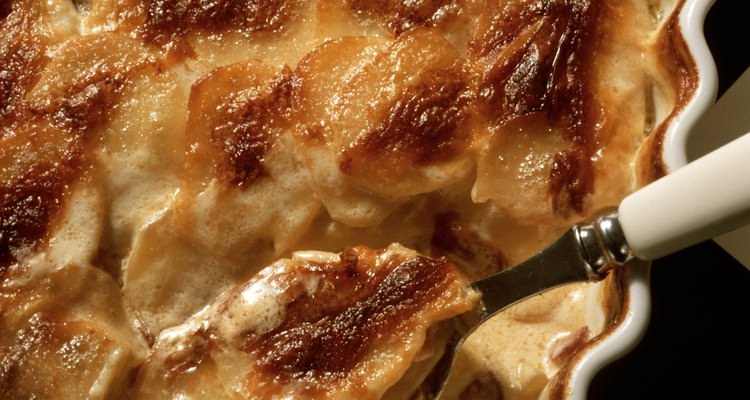 Eising/Photodisc/Getty Images
Cheesy potatoes are the ultimate comfort food. Unfortunately, the reason they are so satisfying is the amount of fat and salt in the traditional recipe. You can cut the calories but keep the taste by swapping out the sour cream with Greek yogurt. This one change has big benefits. Every 4 ounces or 1/2 cup of Greek yogurt has 64 calories and 0 grams of fat. The same amount of regular sour cream has 216 calories and 24 grams of fat.
Step 1
Peel, slice and simmer the potatoes in water until they're just tender. Drain them and set them aside.
Step 2
Combine the cream soup, grated cheese, seasonings, green onion and milk in a large bowl. Double the amount of milk your recipe typically calls for or replace the sour cream with an equal amount of plain yogurt. Greek yogurt works best, but you can use regular yogurt too.
Step 3
Stir the potatoes gently into the cream soup mixture, taking care not to break them. Pour the potato mixture into a casserole dish treated with non-stick spray. Bake the dish at 350 degrees Fahrenheit for 30 to 45 minutes, or until the potatoes are completely tender and the dish is golden brown.
References
Tips
Another option for making cheesy potatoes is to make au gratin potatoes instead. The sauce for these delicious potatoes includes only heavy cream, grated cheese and seasonings. The dish goes together in a snap and has a creamy, pure taste. Classic recipes call for Gruyere or Emmental cheese, which can be pricey and hard to find. Substitute grated sharp cheddar or Swiss cheese if you prefer.
Writer Bio
Julie Christensen is a food writer, caterer, and mom-chef. She's the creator of MarmaladeMom.org, dedicated to family fun and delicious food, and released a book titled "More Than Pot Roast: Fast, Fresh Slow Cooker Recipes."
Photo Credits
Eising/Photodisc/Getty Images