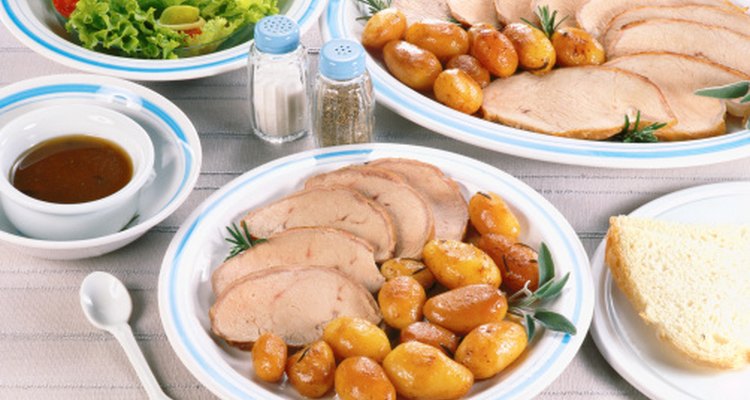 Stockbyte/Stockbyte/Getty Images
Parisian potatoes, or pommes Parisienne, are small, round potato balls originating in France. They add a simple, yet elegant touch to a formal dinner without overwhelming the entrée. The raw potatoes can be shaped in advanced and kept in cool to cold water for several hours until you are ready to boil, prepare and serve. Preparation time is about 30 minutes.
Scoop potato balls from large raw potatoes using a Parisienne scoop or melon baller. To lessen preparation time, use new potatoes or small round reds, and cut into quarters instead of scooping out larger potatoes.
Place the potato balls into a 2-quart saucepan and cover with cold water. Do not cover the pan. Bring to a boil, cook until tender, then drain. Potatoes are done when a knife inserted into the potatoes comes out easily.
Heat 3 tbsp. of extra-virgin olive oil and 2 tbsp. of butter in a skillet over medium heat. Add the cooked potato balls and sprinkle with minced garlic, salt and pepper. Gently roll the potatoes in the skillet, or gently rock the skillet back and forth, until the potatoes are covered with oil. Take care not to singe or burn the garlic. Cook for approximately 5 to 8 minutes, until the potatoes are covered with oil and slightly browned.
Pour the potatoes into a serving dish, sprinkle with parsley and serve.
Writer Bio
Based in Atlanta, Valerie Liles has been writing about landscape and garden design since 1980. As a registered respiratory therapist, she also has experience in family health, nutrition and pediatric and adult asthma managment. Liles holds a Bachelor of Arts in journalism from Colorado State University and a Master of Science in technical communication from the University of Colorado.
Photo Credits
Stockbyte/Stockbyte/Getty Images