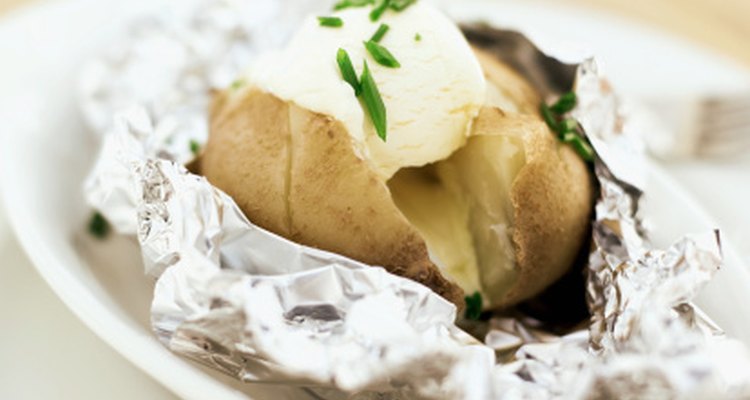 George Doyle/Stockbyte/Getty Images
Baked potatoes are pure Americana -- synonymous with steak dinners and outdoor barbecues. The popularity of the baked potato lies in its simplicity; hearty starch cooked to steaming perfection that hosts myriad condiments and additions. A few easy preparations – cleaning the potato, venting it to release steam and wrapping it in foil to prevent scorching – results in a classic side dish that impresses and satisfies.
Preheat the oven to 425 degrees Fahrenheit. Wash and scrub the potatoes in cold water using a kitchen brush. Dry with paper towels.
Poke several holes in each potato using a fork. This allows steam to escape and prevents the potatoes from exploding in the oven.
Wrap each potato in one layer of heavy-duty aluminum foil. Place the potatoes directly on the oven rack.
Bake the potatoes for 45 minutes or until tender.
References
"The Professional Chef 8th Edition"; The Culinary Institute of America; 2006
Writer Bio
A.J. Andrews' work has appeared in Food and Wine, Fricote and "BBC Good Food." He lives in Europe where he bakes with wild yeast, milks goats for cheese and prepares for the Court of Master Sommeliers level II exam. Andrews received formal training at Le Cordon Bleu.
Photo Credits
George Doyle/Stockbyte/Getty Images