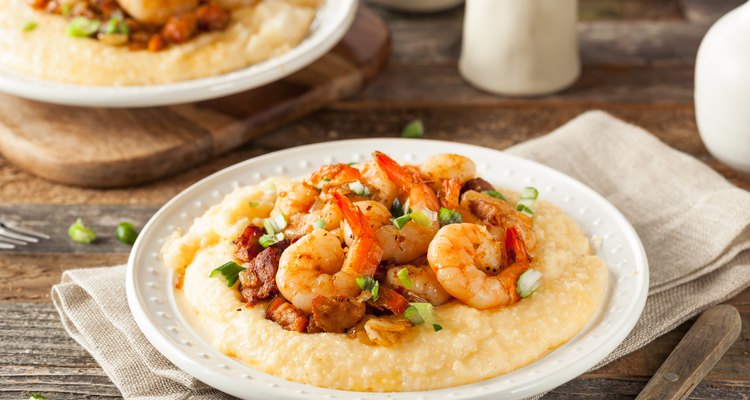 bhofack2/iStock/GettyImages
A Taste of the Coastal Carolinas in Minutes
Filling, convenient and quick, creamy shrimp and grits has everything a busy mama needs to feed and please the family in around 30 minutes. The beauty of shrimp and grits is that you can have it any way you prefer by adding a few extra ingredients: The classic Carolina way with bacon and cheese, Cajun style with peppers and onions, Italian style with tomatoes and basil – the variations abound!
Total Time: 25 minutes | Prep Time: 15 minutes | Serves: 4
2 slices thick-cut pancetta or bacon, chopped

2 cups stock or water
Salt to taste
1 cup quick-cooking grits
1/4 cup butter, halved

3 ounces chèvre or soft cream cheese

1/2 cup white cheddar cheese

1/2 cup heavy cream, plus more to taste

Lemon juice, to taste

Black pepper, freshly ground, to taste
1 tablespoon piquant seasoning, such as Cajun or Old Bay
1 tablespoon paprika
1 clove garlic, minced (optional)

1 pound (26-30 count) shrimp, peeled and deveined
2 tablespoons chives, thinly sliced (optional)

Fry the bacon until crisp; drain and set aside. Reserve the bacon fat for cooking the shrimp, if desired.

Season the stock to taste with salt, and bring it to a boil on the stove.
Whisk the grits and 2 tablespoons of butter into the stock, slowly. Continue whisking until the grits are almost cooked through, about 5 minutes.

Stir the cheeses into the grits and cook for about 2 minutes, stirring occasionally. Take the grits off the stove, and stir in the cream. If desired, add up to 1/4 cup more cream.

Taste the grits, and adjust the seasoning to taste with salt, freshly ground black pepper and lemon juice. Cover the grits, and set them aside.


Heat the remaining butter (and bacon fat, if using) in a large sauté

pan over medium heat. Add the seasoning, paprika and garlic, and whisk to combine.
7. Add the shrimp. Toss or stir to coat. Sauté

the shrimp until cooked through, about 3 minutes. 8. Stir the grits, and put them in a large serving dish. Add the bacon and shrimp. Top with chives, and serve.
References
Writer Bio
A.J. Andrews' work has appeared in Food and Wine, Fricote and "BBC Good Food." He lives in Europe where he bakes with wild yeast, milks goats for cheese and prepares for the Court of Master Sommeliers level II exam. Andrews received formal training at Le Cordon Bleu.