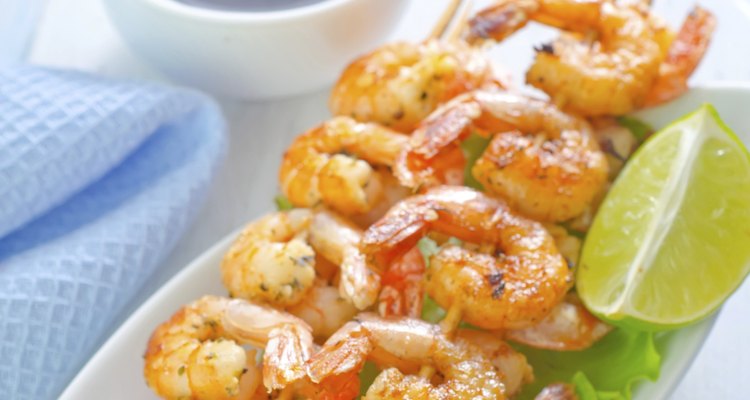 tycoon751/iStock/Getty Images
Benihana is a restaurant chain with locations throughout the U.S., Latin America and the Caribbean. Benihana serves Japanese cuisine, including sushi and teppanyaki. Teppanyaki is a cooking style that combines artful knife skills, table-side entertainment and delicious grilled dishes like steak, chicken and seafood. According to the Benihana website, Benihana chefs have been putting on dinner shows since1964, when they introduced the teppanyaki style of cooking to America. If you would like to enjoy Benihana "colossal shrimp" at home and don't mind missing the show, a copycat recipe can get you Benihana-style shrimp complete with Benihana-style dipping sauce.
Combine the mayonnaise and water in a medium mixing bowl. Whisk to combine thoroughly. Add the garlic, hot sauce, vinegar, sugar, salt, ketchup, dry mustard, paprika, pepper, sesame seeds and ginger. Whisk together all ingredients. Cover the bowl with plastic wrap or a lid and refrigerate overnight.
Combine 1 clove of garlic and the butter in a small, microwave-safe bowl. Microwave on high heat for 30 seconds to 1 minute, or until the butter is bubbly and hot.
Heat a stainless-steel or cast-iron frying pan to medium-high heat. Add the soybean oil to the pan. Sprinkle the shrimp with salt and pepper. Add the shrimp to the pan in a single layer. Cook the shrimp for about 3 minutes on each side, or until pink.
Add the prepared garlic butter to the shrimp and continue to saute for 2 more minutes. Squeeze the juice of the lemon over the shrimp. Remove from the heat.
Remove the prepared sauce from refrigerator and stir. Serve the hot shrimp with the dipping sauce.
References
Writer Bio
Sarah Bourque has been a freelance writer since 2006 and is based in the Pacific Northwest. She writes and edits for the local publisher, Pacific Crest Imprint and has written for several online content sites. Her work recently appeared in "The Goldendale Tourism and Economic Development Magazine" and "Sail the Gorge!" magazine. She attended Portland Community College where she studied psychology.
Photo Credits
tycoon751/iStock/Getty Images