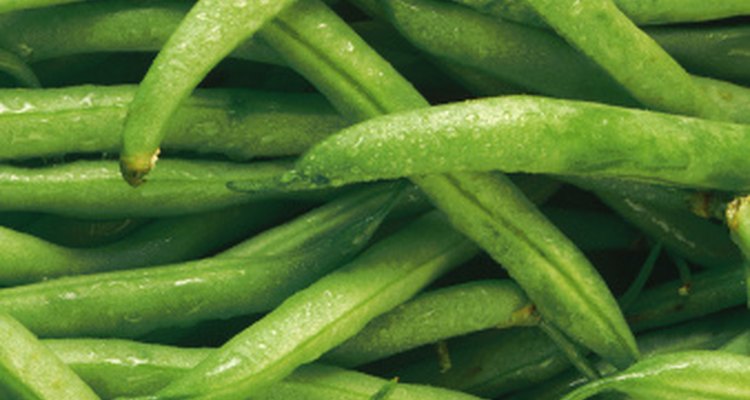 Comstock/Comstock/Getty Images
Ginataang shrimp with kalabasa and sitaw is a Filipino stew-like dish commonly served with steamed white rice. The kalabasa, also known as winter squash, adds an earthy flavor to the dish, complementing the taste of the shrimp. The sitaw, also known as string beans, introduce a fresh taste and light crunch to the stew. You will need approximately 30 minutes to cook ginataang shrimp with kalabasa and sitaw. This recipe serves 6 to 8.
Combine the vegetable oil, chopped white onion and minced garlic in a skillet. Put the skillet over high heat and stir frequently until the onions are browned and the garlic is fragrant.
Add the shrimp to the skillet and stir constantly for 5 minutes. Add the peeled and cubed kalabasa and continue stirring for an additional 5 minutes.
Stir the sitaw into the shrimp, kalabasa, onion and garlic for about 3 minutes.
Pour the water into the skillet, bring it to a boil and then add the coconut milk. Cover the skillet and cook for 10 minutes.
Season with salt and pepper and serve it while it is hot.
References
"Filipino Cookbook"; Miki Garcia; 2010
"The Philippine Cookbook"; Reynaldo G. Alejandro; 1985
"Filipino Homestyle Dishes"; Norma Olizon-Chikiamco; 2003
Tips
Refrigerate leftover ginataang shrimp with kalabasa and sitaw immediately and consume it within 24 hours.
Writer Bio
Serena Styles is a Colorado-based writer who specializes in health, fitness and food. Speaking three languages and working on a fourth, Styles is pursuing a Bachelor's in Linguistics and preparing to travel the world. When Styles isn't writing, she can be found hiking, cooking or working as a certified nutritionist.
Photo Credits
Comstock/Comstock/Getty Images