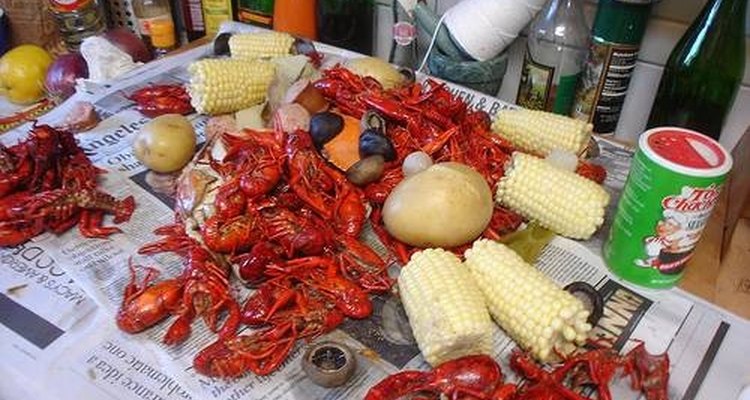 http://books.google.com/books?id=v5I1ZpsCfhYC&dq=Hot+Fudge+recipe&source=gbs_navlinks_s
Crawfish are freshwater crustaceans, with a texture and flavor similar to shrimp. Crawfish can often be used in place of shrimp in most recipes, but they have a distinctive flavor that sets them apart from other seafood. Live crawfish will yield the best results, but frozen or blanched crawfish may also be used. This recipe will serve 4 people.
Rinse each of the crawfish thoroughly under cold water until no superficial debris remains. Fill a large bucket with water and pour in the crawfish. Allow them to stand for 30 minutes.
Cut two oranges and two lemons into rounds with the rinds still attached. Fill a large stockpot with 5 gallons of water, and then add the oranges and lemons, garlic, black pepper, salt, bay leaves, cayenne and chili powder.
Bring the water to a boil over high heat and cook for 10 to 15 minutes. Add the potatoes, onion, and corn to the stockpot, and once the water returns to a boil, cook for 5 more minutes.
Drain the water from the crawfish, and pour them into the stockpot. Wait until the water returns to a boil, and cook them for 10 to 12 minutes. Remove the stockpot from the heat and cover.
Allow the ingredients to stand for 10 to 12 minutes, and then drain the liquid, leaving only vegetables and crawfish. Serve the crawfish hot with the boiled vegetables on the side.
Tips
The crawfish do not need to soak in water for 30 minutes if they are farm-raised and have already been purged. The best time to purchase live crawfish is from early November until late June.
Warnings
Blanched crawfish have already been steamed. If using blanched crawfish for this recipe, do not cook or eat those with uncurled tails. This indicates that they were dead before being cooked, and are often rancid.
Writer Bio
Willow Sidhe is a freelance writer living in the beautiful Hot Springs, AR. She is a certified aromatherapist with a background in herbalism. She has extensive experience gardening, with a specialty in indoor plants and herbs. Sidhe's work has been published on numerous Web sites, including Gardenguides.com.
Photo Credits
http://books.google.com/books?id=v5I1ZpsCfhYC&dq=Hot+Fudge+recipe&source=gbs_navlinks_s