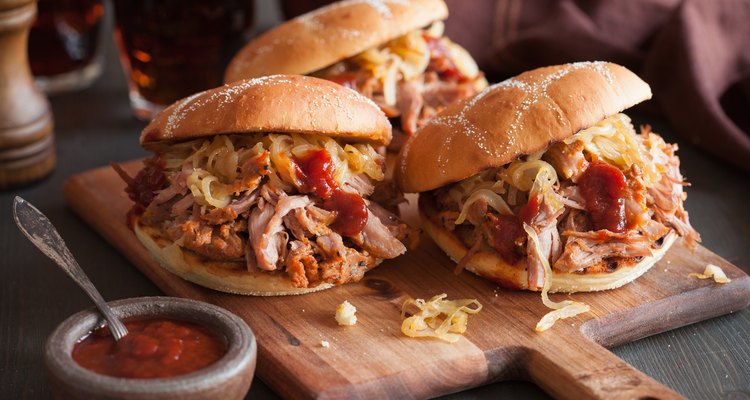 OlgaMiltsova/iStock/GettyImages
Complements for Your Pulled Pork
Whether you served pulled pork sandwiches on crusty kaiser rolls or pulled pork in a chili-like pork stew, you need side dishes that balance or complement the richness, sweet undertones and silky texture of the meat. Crisp and crunchy foods, acidic ingredients and most fruit will all do the trick. Experiment with both tried-and-true sides and unusual combinations to see what you like best.
Beans
Pulled pork at barbecues typically comes with a side of red beans in a tomato-based sauce. But there are no rules about what kind of beans to serve, so try black beans with green tomatillo sauce, Boston baked beans made with white navy beans or Great Northern beans cooked in spicy root beer and seasoned with dry mustard, hot sauce and bacon.
Salads
Salads with crispy textures and bright, acidic flavors provide a contrast to pulled pork's luxuriousness. Coleslaw is the prime example. Make your slaw with a mayo dressing, and toss in a few sweet currants for contrast. Or go Asian-fusion for your menu, and dress the slaw with a sesame-ginger dressing, adding toasted almonds, grated carrots and sliced green onions to the cabbage.
A green salad with orange or grapefruit chunks also will brighten up the menu. And a refreshing watermelon salad with either arugula or watercress and blue cheese crumbles complements pork's richness and saltiness as well.
Veggies
Pulled pork is such a special meat that it makes sense to make the rest of the menu exceptional too, by adding depths of flavor to whatever vegetable you serve. Enliven creamed corn with jalapenos and chopped parsley, and boost the flavor of corn on the cob with cilantro-lime butter. Serve crowd-pleasing green beans, but make them special by roasting them in the oven with garlic and red pepper flakes. Add smoked paprika to roasted sweet potato fries, and turn succotash with zucchini, squash, lima beans and corn into a cheesy casserole.
Dessert
After a meal with rich pulled pork, your guests or family will welcome a dessert on the lighter side. Serve fruit kebabs with pieces of mango, pineapple and bananas drizzled with a flavorful lime sauce, or make grilled pineapple drizzled with honey and topped with vanilla Greek yogurt. If you're already grilling, place pieces of pound cake on the grill for a few minutes to warm up, and top them with fresh peach or strawberry slices. If you're having pork on the Fourth of July, finish the menu with red, white and blue parfaits made with layers of fresh blueberries, sliced strawberries and vanilla yogurt.
References
Karen Page and Andrew Dornenburg: The Flavor Bible
Writer Bio
Susan Lundman began writing about her love of cooking, ingredient choices, menu planning and healthy eating after working for 20 years on children's issues at a nonprofit organization. She has written about food online professionally for ten years on numerous websites, and has provided family and friends with homemade recipes and stories about culinary adventures. Lundman received her M.A. from Stanford University.