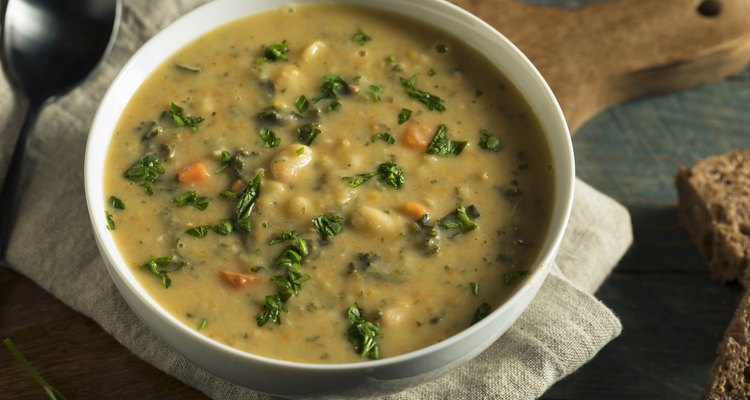 bhofack2/iStock/GettyImages
Adding Herbs, Spices and Condiments to White Bean Soup
Whether you make white bean soup with large cannellini or great Northern beans, or small navy or pea beans, you have a wide range of seasonings to choose from. Spices for a navy bean soup already filled with the flavor of ham hocks will need different spices than a lighter, French-style soup without any meat. No matter what kind of bean soup you choose, make sure to take a taste as you cook to ensure that the flavor is just right, and don't forget to add salt to bring out the flavor of all the other ingredients.
Soups With Meat
White bean soups made with sausage, smoky bacon or flavorful chunks of ham need just one or two spices to give them an additional depth of flavor. Salt, pepper and either a few bay leaves or a small amount of dried oregano give the soup a classic profile without too many flavors competing with the meat. You might also choose to change the flavor profile with an unusual seasoning, such as adding a small amount of cayenne pepper, hot sauce, red pepper flakes or a tablespoon of canned chipotle chiles in adobo sauce to enliven the soup even more.
Vegetarian Soups
Without the inclusion of intensely flavored meats, your bean soup seasonings can be more assertive. Try a combination of sage and thyme along with salt and pepper, or use dried oregano and and red pepper flakes. Substitute dried rosemary for any of the other dried spices, along with a flavored salt, such as one with fennel or mushroom flakes in it. To give your soup a French flair, use fresh herbs added just before you serve the soup. Fresh tarragon, flat-leaf parsley, basil or grated, fresh ginger all pair well with white beans.
References
Karen Page and Andrew Dornenburg: The Flavor Bible
Sharon Tyler Herbst and Ron Herbst: The Deluxe Food Lover's Companion
Writer Bio
Susan Lundman began writing about her love of cooking, ingredient choices, menu planning and healthy eating after working for 20 years on children's issues at a nonprofit organization. She has written about food online professionally for ten years on numerous websites, and has provided family and friends with homemade recipes and stories about culinary adventures. Lundman received her M.A. from Stanford University.