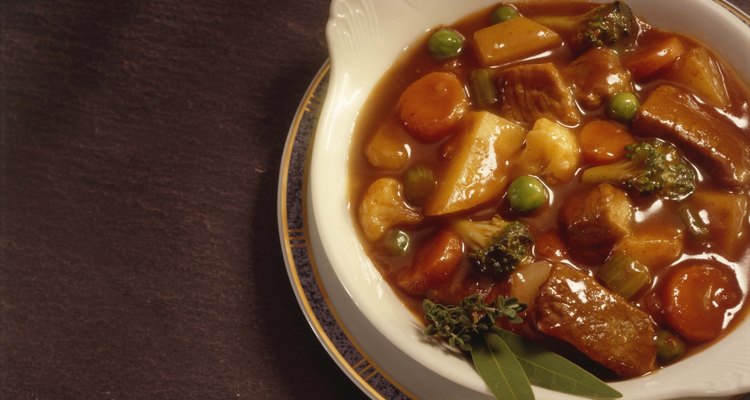 Jupiterimages/Comstock/Getty Images
Beef bourguignon, also known as beef burgundy, is a rich French stew featuring tender meat, red wine, garlic, onions, beef broth and mushrooms. The stew is typically made in a Dutch oven, but you can also prepare it in a convenient slow cooker if you're pressed for time. Bring out the stew's savory flavor with a variety of complementary foods.
Crusty Bread
Complement beef bourguignon with a loaf of crusty French bread for dipping into the gravy. Cut the loaf into slices and place it in a basket so dinner guests can take as many pieces as they'd like. You can serve French rolls instead of the bread if you desire, which will allow you to skip the slicing step. Serve the bread or rolls warm, with plenty of butter for spreading.
Noodles
One way to make beef bourguignon even richer and more decadent is by serving it over buttered noodles. Choose wide, thick pasta, such as egg noodles, that can stand up to the hearty stew. Ladle the beef bourguignon directly over the buttered noodles, or serve it alongside of the pasta. The noodles will also help stretch the stew if you have more dinner guests than you were expecting.
Potatoes
Potatoes, no matter how they are prepared, are the ideal side dish to beef bourguignon. The stew typically doesn't contain potatoes so serving them as an accompaniment is the perfect touch. You can make garlic mashed potatoes and serve the stew's wine-based gravy over the top. Another option is to roast red potatoes with rosemary, thyme and other herbs and spices, and serve them alongside the beef bourguignon.
Salad
If you prefer a lighter beef bourguignon side dish, treat dinner guests to a crisp garden salad to complement the stew. The refreshing greens and other vegetables will help balance out the richness of the beef bourguignon. A simple salad containing lettuce, tomatoes, carrots and cucumbers will work, but you can also get creative by making a frisee salad topped with fresh pears, crumbled blue cheese and a wine-based vinaigrette.
References
Writer Bio
Elizabeth Arnold has written for a wide variety of publications and websites. Her experience includes writing travel features for "Recommend" magazine and packaging marketing copy for both Metro-Goldwyn-Mayer and Warner Bros. consumer products. Recently, Arnold was a staff writer for "Special Events" magazine. Arnold studied English at the University of Wisconsin-Milwaukee.
Photo Credits
Jupiterimages/Comstock/Getty Images