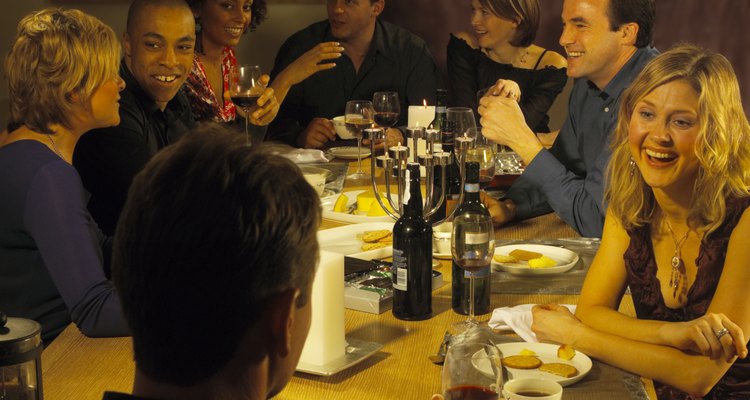 BananaStock/BananaStock/Getty Images
Cooking for a crowd often is easier than cooking for just one or two people. When cooking for eight, there's no concern you'll waste an entire roast or only use a tablespoon of the tomato paste you just opened. Instead of stressing about scaling up your meal, simply look toward foods that naturally feed a large crowd --- think soups, salads and casseroles --- and still provide a delicious, balanced meal.
First Course
Open your meal with a first course of soup or salad. Plan a soup that doesn't take long to cook, like a puréed squash or cream of broccoli. For salads, if you're under a time crunch, a traditional garden salad with chopped vegetables will suffice, or get creative with different ingredients, including roasted vegetables, berries and nuts. Even better, serve both soup and salad, using some of the same ingredients in both to save money and stretch your menu. To save time, make the soup ahead of the event and simply reheat the night of your dinner. You can also prepare the salad toppings beforehand and simply toss together with the greens and creamy dressing immediately before serving.
Meat Dishes
A roast is an easy way to feed eight people without a lot of preparation. Whether it's beef, lamb or pork, estimate about 8 ozs. of uncooked meat per person, or more if you have heavy eaters. Prep the roast ahead of time, so you'll only have to slide it into the oven the day of the dinner. If you'd rather have chicken, make a large tray of chicken Parmesan or chicken cacciatore. Both are quick dishes that generally are crowd-pleasers, even with young guests.
Vegetarian Dishes
If you're dining with vegetarians, it's usually easier to just avoid a meat dish rather than make a separate vegetarian dish. Trays of baked pasta, like ziti, or a casserole are both relatively inexpensive, quick main dishes to prepare. Again, you can make these well ahead of your dinner party and warm them the night of the gathering. Prepare them up to three days in advance and refrigerate, or make them weeks before your party and freeze. Allow the dishes to thaw for at least a day in the refrigerator if frozen. Use any extra vegetables from the casserole to top the salad as a money-saving move.
Side Dishes
Potatoes or rice provide the perfect side dish for a large group. cube potatoes, coat them lightly with olive oil, and brown them in the oven with a little chopped onion and garlic salt for crisp but tender potatoes that complement any main course. Rice dishes also are easy and cheap for a party of eight. For a less traditional route, make a creamy, cheesy polenta side dish or a bowl of quinoa pilaf. These grains go a long way in feeding a crowd, and are cost-effective side options.
Dessert
Every good dinner party ends with a delicious dessert. Don't worry about an overly complicated dessert that has to be baked just so. Your guests already will be full, and you'll want to expend your energy on having fun, not fussing over dessert. Try a duo of pies, such as an apple and chocolate mousse, using ready-made crust to cut down on time and effort. Top with homemade whipped cream, which takes just minutes to make, or a scoop of ice cream. You can also add some whimsy to your meal with just a gallon of ice cream and candy by setting up a build-your-own-sundae bar.
Tips for Dinner Planning
Prepare as much of the meal ahead of time as possible. Buy ready-made cut and washed vegetables when possible to cut down on preparation time. You can also have your butcher marinate a roast for you. If you're dining with kids, aim for dishes they'll also enjoy, such as mashed potatoes, or dishes that can easily adapt, such as salads with toppings served separately that they can choose for themselves. Adaptable dishes allow kids to join the grownups in a nice sit-down meal without doubling your work.
References
Resources
Writer Bio
Tallulah Philange has worked as a journalist since 2003. Her work has appeared in the "Princeton (N.J.) Packet," "Destinations" magazine and in higher education publications. She also has edited and produced online content for those publications. Philange holds a Bachelor of Arts in print journalism from American University and a Master of Arts in communication, culture and technology from Georgetown University.
Photo Credits
BananaStock/BananaStock/Getty Images