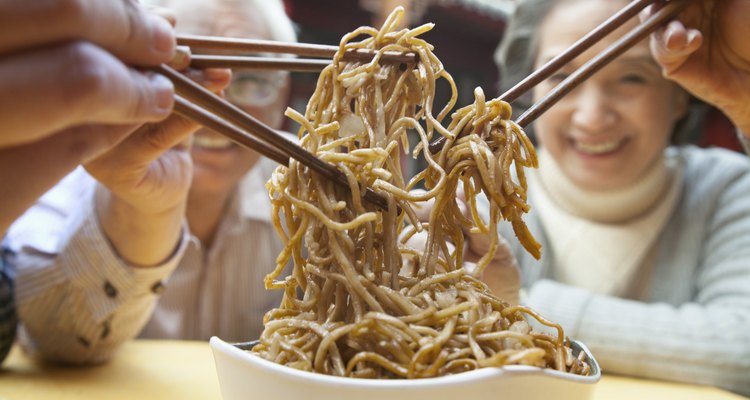 XiXinXing/XiXinXing/Getty Images
A simple dish of Chinese cold noodles makes a wonderful summertime lunch or dinner and is popular street market fare in the evenings in China. These noodles can be dressed up with additional ingredients or a broth to serve as cold soup, or you can just toss them with a simple soy sauce dressing for a meal that's done in under 15 minutes. Add slices of chilled cucumber from your garden or bean sprouts for flavor and crunch.
Bring about 6 cups of water to boil and add the dry vermicelli noodles, boiling for 6 to 8 minutes until the noodles are tender but not soft.
Drain and rinse the vermicelli noodles.
Stir the soy sauce together with hot oil, vinegar and sesame seeds in a large mixing or serving bowl if you are using the optional ingredients. Otherwise just add the soy sauce to the bowl.
Toss the pasta with the soy sauce mixture, stirring until it is well-coated. Allow the pasta to cool to room temperature or cover it and store it in the refrigerator for up to two days before serving.
Add about 1/3 cup of chopped green onions just before serving the noodles, if desired. Serve the noodles either cold or at room temperature.
References
"Pasta and Co. By Request"; Marcella Rosene; 2002
"The Herb Garden Gourmet"; Tim Haas and Jan Beane; 2009
"China to Chinatown: Chinese Food in the West"; J.A.G. Roberts; 2004
Writer Bio
Chance Woods has been a personal trainer since 2002, specializing in fitness and nutrition. She holds a Bachelor of Science in dietetics.
Photo Credits
XiXinXing/XiXinXing/Getty Images