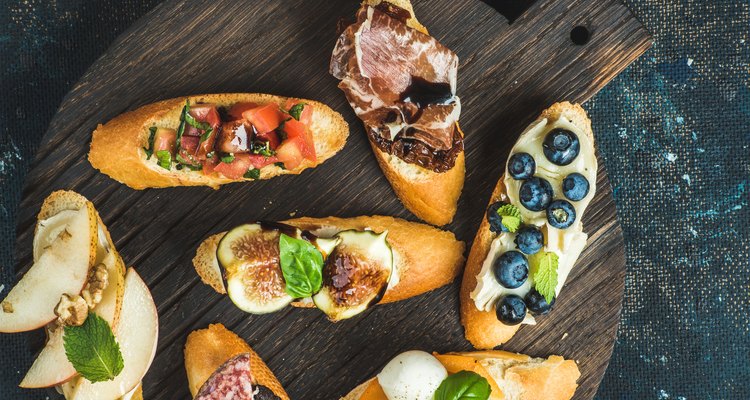 Foxys_forest_manufacture/iStock/GettyImages
An appealing appetizer can makes a meal feel fancier and give guests something to nibble as they anticipate the main course. There's no need for you to spend hours planning and assembling a fancy appetizer. Many starters and finger foods look impressive but take just a few minutes to prepare. Whether you're serving a roomful of partygoers or just your family, choose an easy-to-make, yet attractive, appetizer that appeals to kids' palates as well as those of adults.
Crostini and Bruschetta
Impress your family and dinner guests by serving bite-sized pieces of toasted bread with colorful and easy toppings. Buy crostini, crispy bite-sized pieces of toasted bread, at your local bakery or grocery store and serve with savory homemade or store-bought toppings. Mix cream cheese with green onion dip mix, and spread over the pieces, then top each with a fresh green-onion slice. Top some crostini with a kid-friendly cheese spread and others with pesto or diced vegetables for grown-up palates. Bruschetta, similar to crostini, makes a great appetizer before an Italian meal. Purchase bread from an artisan bakery, and toast, grill or broil slices until lightly crispy. Serve the bread with a store-bought or homemade bruschetta topping, which typically consists of diced tomatoes, garlic, olive oil and basil.
Pinwheel Sandwiches
Stuff wraps or bread with fillings like ham, cheese and veggies before rolling and slicing them into pinwheel shapes. Arrange pinwheels on a platter for an aesthetically pleasing appetizer and pack leftovers into kids' school lunches the next day. Make sure the fillings in your pinwheels complement the flavors or theme of your meal. If you are serving a Mexican dish for the main course, serve pinwheels made from beans and cheese rolled in tortillas. For a light lunch appetizer, try cream cheese, dip mix and chopped veggies rolled in sandwich bread.
Toothpick Appetizers
Appetizers served on toothpicks are simple to make and easy to eat in a party setting. Slice your choice of meat into bite-sized chunks and broil or saute it until it is cooked through. Skewer each chunk of meat with a toothpick. Combine meats with cheeses and cherry tomatoes and even fruits like pears for a different take. Make this appetizer even easier to prepare by buying precooked meat, like a rotisserie chicken, from the prepared foods section of a supermarket.
Dips and Spreads
Chips and dip may not seem like a fancy choice for an appetizer, but you can make this easy party staple more sophisticated by choosing gourmet spreads. Prepare different kinds of dips and spreads like tapenade, guacamole and salsa at home in your food processor or buy prepared versions from supermarkets and specialty food stores. Get a variety of dip mix flavors and mix with sour cream for an appealing assortment of creamy dips and spreads. Serve them with gourmet crackers, tortilla chips, pita chips and slices of artisan bread for an appetizer and party food both kids and adults can enjoy.
References
Writer Bio
Sarah Badger is a certified pilates and group fitness instructor, writer and dance teacher. Her work has appeared in "Dance Spirit" magazine and several literary journals. Badger earned her bachelor's degree in English and religious studies from Marymount Manhattan College, and currently owns a dance and fitness studio in upstate New York.