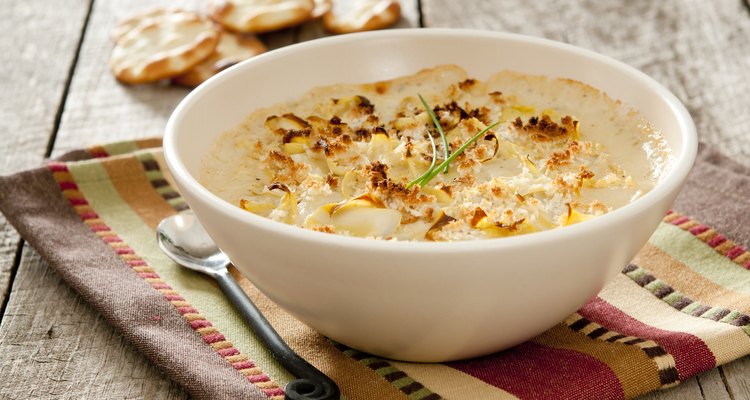 cobraphoto/iStock/GettyImages
Enjoy a Crowd-Pleasing Comfort Food Dip
When you're tasked with bringing an appetizer to the next pot luck, spinach-artichoke dip is sure to please. It won't take a lot of your precious time, but will win rave reviews from party goers. Even if you have nowhere to go, whip up a batch of spinach artichoke dip to satisfy the cravings of a hungry family. You might even get your kids to down a few extra veggies by using carrot sticks and cucumber coins as the dippers instead of tortilla chips.
Total Time: 25 minutes| Prep Time: 5 minutes | Serves: 4 to 6
4 ounces cream cheese, softened

3/4 cup sour cream

1/4 cup mayonnaise
1 cup grated Cheddar cheese

1/4 cup shredded Parmesan

Kosher salt and pepper, to taste
1 10-ounce package frozen cut and chopped spinach, thawed and drained

1 12-ounce jar artichoke hearts, drained and chopped
Heat the oven to 400F.

In a large bowl, use an electric mixer or a spatula to blend together the cream cheese, sour cream and mayonnaise. Stir in the Cheddar cheese, Parmesan, salt and pepper.

Use a spatula to fold in the thawed, drained spinach and artichoke hearts.

Spread the mixture in a 1-quart baking dish and bake for about 20 minutes or until heated through. Serve warm or at room temperature.

References
Writer Bio
Andrea Cespedes is a professionally trained chef who has focused studies in nutrition. With more than 20 years of experience in the fitness industry, she coaches cycling and running and teaches Pilates and yoga. She is an American Council on Exercise-certified personal trainer, RYT-200 and has degrees from Princeton and Columbia University.