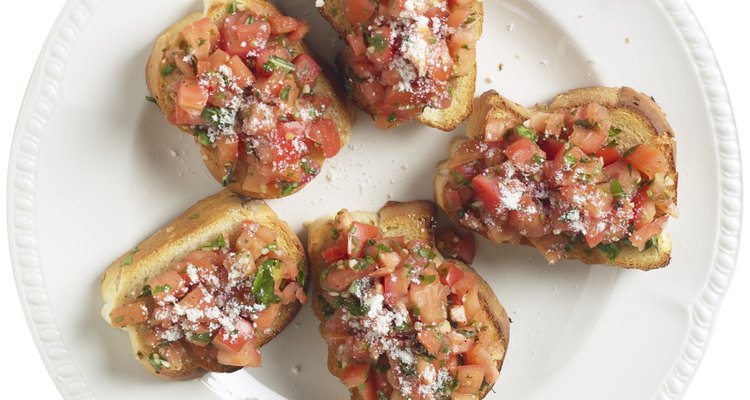 PhotoObjects.net/PhotoObjects.net/Getty Images
When you want to impress your family or guests with a three-course meal but don't have much time, choose a menu that you can put together quickly, even with kids underfoot. A three-course meal usually features a starter, a main dish and a dessert, all with a cohesive theme or style of cuisine.
Classic
Put together a classic American meal with some of your family's favorite easy dishes. For example, start with a simple salad of lettuce with chopped tomatoes, avocado and feta cheese tossed with a bottled salad dressing. For the main course, serve pita pizzas made by spreading tomato sauce or ranch dressing, cheese and toppings of your choice on pita bread rounds and baking them. As you eat the pizzas, bake a simple white cake from a mix and serve it with fresh berries on top instead of frosting.
Italian
Kick off a three-course Italian meal with a cold antipasto tray of crackers, salami, prosciutto, cheese, olives and tomato slices. For the main course, serve spaghetti with a hearty meat sauce. If you have a little more time, make a baked pasta dish, such as lasagna or baked penne, which can finish cooking while you eat your first course. Provide your family with their veggies by serving a Caesar salad. Use a salad kit to save some precious time. For dessert, serve a scoop or two of creamy Italian gelato with biscotti.
Mexican
Start with an easy chilled avocado soup made by pureeing avocados with buttermilk, plain yogurt, chicken broth and a little chili powder. For the main course, saute bell peppers, onions and chicken strips with taco seasonings and serve them with small flour tortillas, sour cream and shredded lettuce as fajitas. Please your kids who love to dip and dunk their food by providing small sides of salsa, ranch and guacamole. For dessert, make flan by covering the bottom of a bowl with caramel syrup and pouring a batch of instant vanilla or caramel pudding on top. By the time you are done eating, it will be set. Turn it upside-down onto a plate and serve it for dessert.
Grill
Prepare a three-course meal almost entirely on the grill. To start, grill slices of bread and make bruschetta with chopped tomatoes, fresh basil and balsamic dressing. For the main course, grill steaks, corn on the cob and slices of summer squash. If your kids don't like steak, grill some chicken breasts and provide ketchup, honey mustard or ranch dressing for dipping. As soon as you pull the steaks off the grill, put thick slices of fresh pineapple on at a fairly low temperature and serve those for dessert with a scoop of vanilla ice cream.
References
"Joy of Cooking"; Irma S. Rombauer; 2006
"Cooking for a Crowd"; Susan Wyler; 2005
Photo Credits
PhotoObjects.net/PhotoObjects.net/Getty Images