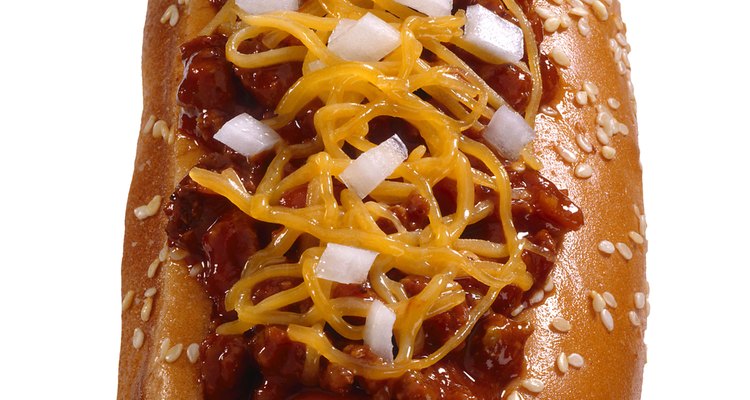 Brand X Pictures/Brand X Pictures/Getty Images
A basic hot dog chili sauce contains ground beef, onions and seasonings in a tomato-based or barbecue sauce. It can be hot or mild, and some cooks add beans or mustard. Commercial hot dog chili sauce is high in saturated fat and sodium, but you can make your own at home in less than half an hour and tailor it to your family's taste preferences.
Old Favorites
Add a twist to burgers by adding chili sauce and dry spicy ranch dressing mix to the ground beef before you form the patties, or filling the hamburgers with the sauce before you cook them. Make a simple Cincinnati chili by topping cooked spaghetti with warmed kidney beans, chili sauce and a generous handful of shredded cheese. Top cooked French fries or home fries with sauce and cheese, sprinkle on some dry dressing and seasoning mix, and heat through. Try topping commercial vegetarian hot dogs or bratwurst as a substitute for the hot dog, or use lean, all-beef franks. Look for vegetarian selections in the organic section of the store or in the freezer case.
Main Dishes
A variation on smothered chicken or pork chops is an easy main dish to create for dinner on a busy night. Place boneless, skinless chicken breasts in a shallow casserole dish and top with chili sauce. Bake the chicken for about an hour. If you use chops, cut away any fat, or use lean pork tenderloin. Lay a slice of onion on top of the chop before you add the sauce for a little extra flavor. Add a dash of dry ranch dressing powder to the chicken or chops before baking. Cook for about an hour. Invite the kids to help you make easy stuffed rolls. Separate a can of crescent rolls and top half of them with sauce and cheese. Add chopped, cooked chicken or turkey and top with the rest of the rolls. Squeeze the edges together so they don't leak, brush the tops of the rolls lightly with olive oil and add a dash of dry dressing mix for extra flavor. Bake for the length of time recommended on the crescent roll package.
Snacks and Sides
For a Tex-Mex favorite, combine equal parts hot dog chili sauce and pasteurized processed cheese in a double boiler. Cook and stir until the cheese melts, and stir in a packet of spicy ranch dressing mix for an extra jolt. Tortilla chips are a traditional side, but they add fat and sodium. Cut up some of your family's favorite vegetables and use them to dip the cheesy sauce, or simply spread the mixture onto a soft tortilla and cut into wedges. Make a hearty snack by slicing a baguette into thin rounds and topping with a spoonful of chili sauce. Top with cheese and place the rounds in the toaster oven or under the broiler until the cheese melts. Mix hot dog chili sauce into your mac and cheese.
Make Your Own
If you make your own sauce, you can control the amount of fat and sodium in the finished product. Use cooked lean ground beef, onions and garlic simmered in a little low-sodium broth until they're tender, and add crushed tomatoes. Ground chicken or turkey in place of the beef reduces the fat content. Check the label for sodium if you use canned tomatoes. If you have time, make your own by peeling and seeding them and then cooking them until they reach your desired consistency. Season the sauce with cayenne or crushed red pepper if your family enjoys spicy food, or spice it the easy way with a packet of dry dressing and seasoning mix.
References
Writer Bio
Meg Jernigan has been writing for more than 30 years. She specializes in travel, cooking and interior decorating. Her offline credits include copy editing full-length books and creating marketing copy for nonprofit organizations. Jernigan attended George Washington University, majoring in speech and drama.
Photo Credits
Brand X Pictures/Brand X Pictures/Getty Images