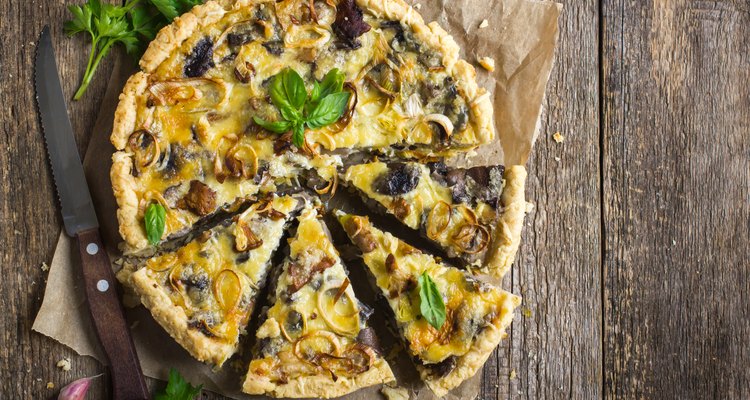 Anna_Shepulova/iStock/GettyImages
Savory and nutritious, quiche qualifies for a feature role in menus ranging from breakfast to party time. Baked in a pastry crust and cut in wedges like pie, the cheese and egg filling offers protein and flavor to keep the entire family satisfied. Quiche is a versatile meal selection for any season or time of day: dress up the basic filling with veggies, meats and dry seasoning mixes. It's served fresh-baked and hot from the oven, cool from being chilled in the refrigerator, or warmed in the microwave to match the menu and suit individual taste preferences.
Quiche for Breakfast
Jump-start the day with a breakfast quiche, which has protein and vitamins to fuel kids' bodies for physical and mental activity. Make the quiche ahead of time, then warm it up quickly in the midst of the morning's hustle and bustle. Supply vitamins by serving fresh fruit cut into pieces that are easy for little fingers to handle and including vegetables in the quiche. Make the quiche even more kid-friendly by seasoning the eggs with a ranch-flavored mix. Round out the menu with a glass of cold milk and a piece of whole-grain toast.
On mornings when you have a little more time, put a new twist on potatoes-and-eggs by making a crust with thawed packaged hash browns that you partially bake before pouring in the egg filling. Add chopped ham and spinach to the quiche for a powerhouse morning meal.
Lunchtime and Snacks
Whether it's a day for lunch at home, time for a picnic or if you're packing lunch for school, quiche is easy to handle and can be eaten cold. Cut classic quiche with a pastry crust into thin wedges to eat as a finger food. Add celery sticks, summer squash slices, baby carrots, cherry tomatoes and a small container of creamy dip. Top off the lunch menu with low-fat cookies or a mix of nuts, raisins and candy-coated chocolate pieces. Small, crust-free quiches, loaded with veggies and baked in a muffin tin, are handy for quick lunches or a nutritious afternoon snack.
Keep a supply of the small quiches in the freezer for older children to warm up themselves in the microwave for an after-school or after-team-practice snack.
Quiche at Dinnertime
Warm quiche served family-style has the hallmarks of comfort food. The cheese and smooth egg-based filling convey homecooked goodness, even if you pick up premade quiche on the way home when schedules are tight. Add a crisp, fresh green salad with ranch dressing and a glass of grape or cranberry juice for a light supper.
For heartier fare, serve the green salad in a side dish and expand the main quiche course with steamed or stir-fried vegetables on the side. Select the veggies to highlight the quiche's contents. For example, pair green beans with ham and onion quiche, prepare stir-fry snow peas and red pepper slices to go with mushroom quiche, and match broccoli with a two-cheese quiche. Put the finishing touch on the dinner menu with a light fruit cobbler or scoop of sherbet for dessert.
Quiche Party Menus
For light party appetizers or a full dinner meal, quiche fills the bill for easy preparation and serving, leaving more time for you to participate in the festivities. For a buffet-style party, set out several quiches, each made with different vegetables. Add bowls of coleslaw, olives, radishes and other raw vegetables and creamy dip, and a platter of rolled-up luncheon meat to the spread for the crew to serve themselves. For a lighter menu, make appetizer-sized quiches with spinach, broccoli and plain cheese fillings. Make little quiches in advance using miniature tart shells, typically found in your grocer's frozen-foods section. Keep the quiches frozen until the day of the party.
References
Writer Bio
Denise Schoonhoven has worked in the fields of acoustics, biomedical products, electric cable heating and marketing communications. She studied at Newbold College and Middlesex Polytechnic in the UK, and Walla Walla University. A writer since 2008, Schoonhoven is a seasoned business traveler, solo tourist, gardener and home renovator.