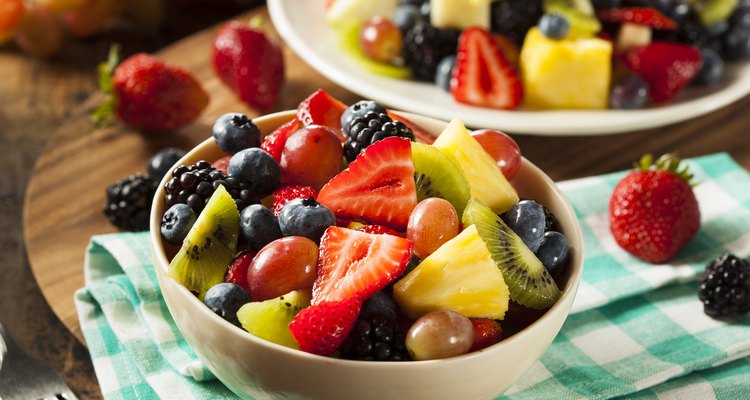 bhofack2/iStock/GettyImages
potluck breakfasts are a tasty way to start the day with family and friends. Although everyone wants to bring the tastiest breakfast dish, it's important not to go overboard. Exotic ingredients or gourmet combinations are not well-suited for such a basic meal or for young guests. Your best bet is to stick with traditional breakfast recipes that ensure that every guest, young or old, will enjoy the food.
Muffins
Muffins are a snap to bring to a potluck breakfast, as you can simply buy them at the grocery store. However, it doesn't take much work to provide guests with a homemade treat. Simply add a few extra ingredients to dry muffin mix and call the recipe your own. Crumble crispy bacon into a cheddar muffin mix for a full breakfast wrapped in a muffin. Stir fresh strawberries into blueberry muffin mix for sweet berry muffins. Bake the muffins the day before the potluck and you won't have to get up early to prepare anything.
Fruit Salad
The salad slot is always one of the easiest dishes for a potluck, be it breakfast or dinner. Almost any combination of fresh fruit can become the most popular dish at the breakfast, especially for kids craving something sweet. Combine sliced strawberries, blueberries and low-fat cherry yogurt for a creamy breakfast salad. Sprinkle a pineapple, mango, banana and orange salad with lime juice for a tropical fruit dish. Prepare the salad right before the potluck for the best taste, as the fruit can dry or soften if you prepare the salad the night before.
Breakfast Casserole
Creating a breakfast casserole takes a little effort, but the filling dish can be the cornerstone of an enjoyable potluck. The basic casserole consists of cubed bread covered with an egg and milk mixture. Prepare the dish the night before the potluck, giving the liquid time to soak into the bread, and cook it in the morning. Keep the dish kid-friendly with diced ham and cheddar or boost the nutrients with whole wheat bread and turkey sausage. Use cinnamon-raisin bread and Canadian bacon for a sweet twist or tomatoes and baby spinach for a meat-free option.
Granola Parfait
Prepare a granola parfait up to 12 hours before the potluck party. The dessert-like appearance of the dish helps enhance its appeal to kids and the ample fiber appeals to dieters. Layer honey granola, low-fat vanilla yogurt and fresh blueberries in a large casserole dish to create a light parfait. Combine raisin-almond granola, low-fat lemon yogurt and fresh raspberries for a tart taste. Substitute thick applesauce for the yogurt if milk allergies are an issue.
References
Writer Bio
A writer since 2000, Aya Pauli has covered a variety of topics including food, fashion, beauty, health, parenting, education, decor and crafts. Her award-winning recipes have been published in food magazines such as "Taste of Home," and she is also the author of a salad cookbook. Pauli's craft projects appear in major manufacturer websites, including Dow Styrofoam. She also holds a CDA in early childhood education and works as a preschool teacher in Wyoming.