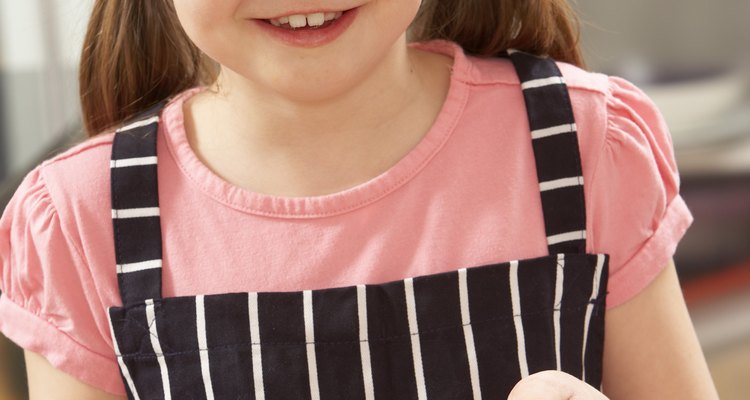 BananaStock/BananaStock/Getty Images
The party is scheduled and the birthday child can't wait, but you'll need a kid-friendly brunch menu to fill hungry bellies. By mid-morning, the little party guests are full of energy and ready to go -- plus the party is early enough to avoid crabbiness as afternoon nap time nears. Fuel all of their party games with easy-to-prepare and easy-to-eat options for the excited party goers.
Make-Ahead Dishes
The last thing you want to do is wake up at the crack of dawn to prepare lots of dishes before the guests arrive. Do as much prep work ahead of time as possible to save your sanity the morning of the party. Food served cold works best for early prep. Think fruit salads, pasta salads, muffins and quick breads. You can also tackle the prep for hot dishes the night before so you can just toss them in the oven that morning. Many breakfast casseroles involving eggs, meats and veggies actually recommend prep the night before. Other ideas to prep in advance include cheesy potato dishes, baked French toast and baked oatmeal.
Child Involvement
Perhaps inviting kids into the kitchen isn't the best way to make food prep easier, but the kids will enjoy helping out. If you're considering eggs, try omelets-in-a-bag. Whisk up a big batch of eggs ahead of time and portion them out into zip-top plastic freezer bags. Unless you want a fight over the omelets, write each guest's name on a plastic bag. Once the kids add their favorite toppings -- meats, veggies, cheese -- simmer the bags in a pot of boiling water for about six to eight minutes. Another way to get the kids involved is by making pancake muffins. Pour your favorite pancake batter into greased muffin tins. Let the kids add fruit, nuts or candies to the pancake muffins before you bake them. You can cook several servings at once and everyone gets a custom meal.
Finger Foods
The best brunch foods for little hands are things they can pick up easily without the need for utensils. Make a batch of sandwiches with various fillings, like jam, peanut butter, chocolate hazelnut spread, cheese and ham. Cut the sandwiches into strips or shapes using cookie cutters. Serve French toast sticks instead of full slices. Make mini pigs-in-a-blanket using cocktail franks. Other brunch finger food ideas include fruit skewers, deviled eggs, mini quiche and breakfast burritos.
Bars
A food bar gives the kids more say in what they eat and takes some of the work off your plate. Set up a pancake and waffle bar with assorted toppings, such as syrup, jam, fruit sauce, whipped topping and fresh fruit. To save time, cook the pancakes and waffles ahead of time and reheat them before serving. A yogurt bar is another option to keep the menu healthy. Put out bowls of flavored or plain yogurt, along with fresh fruit, jam, nuts and granola. Go simple with a cereal bar that offers favorite cold cereal options.
References
Writer Bio
Based in the Midwest, Shelley Frost has been writing parenting and education articles since 2007. Her experience comes from teaching, tutoring and managing educational after school programs. Frost worked in insurance and software testing before becoming a writer. She holds a Bachelor of Arts in elementary education with a reading endorsement.
Photo Credits
BananaStock/BananaStock/Getty Images