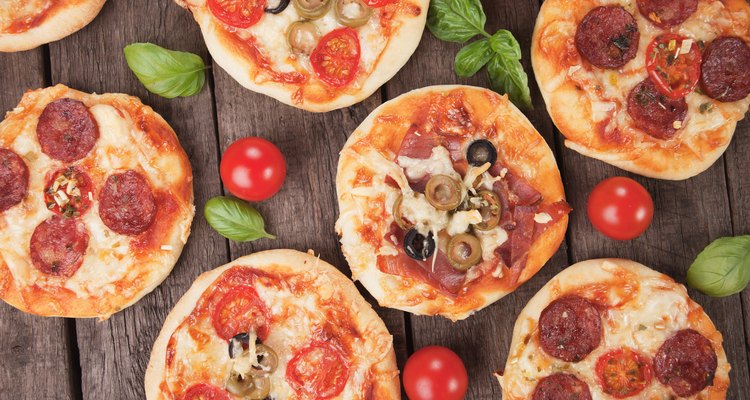 IgorDutina/iStock/GettyImages
Don't stress too much about the menu at your 4-year-old's birthday party. You will need to feed your preschool guests something, but most of your party guests will be too involved in the party action to actually eat. Since hunger can make some preschoolers experience mid-party meltdowns, you will want to get something besides cake and juice in them. Instead of serving a sit-down meal, offer a selection of kid-friendly portable foods they can eat while on-the-go.
Finger Foods
Adult-sized food portions of sandwiches or pizza are too big for preschool appetites. Instead of trying to corral them at a table, serve the little ones a buffet of finger foods such as mini-pizzas, chicken nuggets, sandwiches, cheese cubes, mini-meatballs and other bite-sized foods. If you want to match foods to a theme, cut the sandwiches into shapes with cookie cutters.
Fruit and Veggie Fun
Fruits and vegetables laid out on plain, dip-free trays are unlikely to attract hungry preschoolers. Up their interest in healthier fare by stringing fruits and vegetables onto plastic straws to make preschooler-friendly "swords" or "magic wands." Offer them a selection of sweet and savory dips and dressings so they can dunk their fruits and veggies. In addition to their favorite dips, put out guacamole, hummus and cream cheese. To entice picky eaters to try something new, enlist your preschooler's help in coming up with themed names for your party concoctions, such as guacamole green goo dip or princess pink strawberry cream cheese dip. Help her create small signs that identify the foods on the buffet table.
Something Sweet
You might automatically think you need to serve cake at your 4-year-old's party, but that isn't necessarily the case. Cupcakes work better with this age group due to their smaller size and portability. Other sweet options include mini muffins, a make-your-own sundae bar, and cutout sugar cookies that children can decorate with frosting and sprinkles. Keep sugary offerings to a minimum at your child's party. It's OK to serve a sweet treat, but serving sugary soda or juice, ice cream, cake or cupcakes and then sending the kids home with even more candy can give preschoolers a stomachache and contribute to tooth decay.
Tips and Precautions
When selecting food options for your 4-year-old's party, keep the time of day in mind. If your party falls during a traditional mealtime, you will need to offer more than just cake and snacks. Most parents will stay at the party with their young preschoolers, so make sure you have plenty of drinks and some adult-oriented party foods. Consult with parents ahead of time to make sure the kids do not have any food allergies when planning the menu. Since most guests at the party will probably be 4 or younger, avoid serving foods that can cause choking, such as whole slippery grapes, large chunks of hot dogs, raw carrots, popcorn, pretzels and round, hard candy.
References
Writer Bio
A former children's librarian and teacher living in Dallas, Erin Carson loves to share her knowledge of both literature and parenting through her writing. Carson has a master's degree in library science and a bachelor's degree in English literature. As a freelance writer, Carson has published numerous articles on various websites.