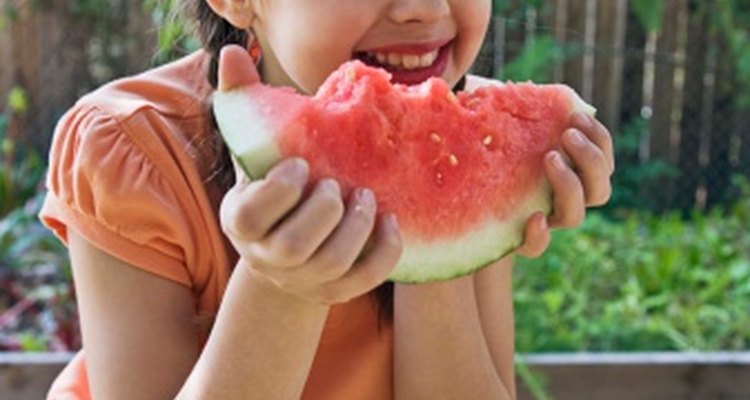 Jupiterimages/Brand X Pictures/Getty Images
If you are organizing a birthday party for a 2-year-old child, you may be thinking about the best snacks to serve your little one and her young guests. Foods that toddlers can help prepare, as well as sweet treats that are also nutritious, are ideal choices for a birthday party that your child is sure to enjoy.
Trail Mix
Purchase your child's favorite candy, cookie, fruits or cereals for the party so he and his guests can create a customized trail mix. Place a large bowl in the center of the table and let the little ones pour ingredients into the bowl -- with a little guidance from you, of course. A trail mix of mini pretzels, candy-coated chocolates, mini shortbread cookies, cereal and dried banana chips makes for tasty toddler birthday party fare. Provide small plastic bags for the children to take any remaining trail mix home as a party favor.
Fruit and Dip
Fresh fruit slices paired with a sweet dip are sure to be a hit at your 2-year-old child's party. Include fruits in the colors of the birthday party, for example watermelon slices for a pink party or tangerines and bananas for a celebration with orange and yellow decorations. Cut the fruit into cubes and arrange it on a tray in the center of the party table. Prepare small cups of fruit dip made from vanilla pudding, cinnamon, honey and coconut, along with food coloring like green or blue, to make the snacks more exciting. Give each guest a cup of fruit dip and let the children select the fruit they want from the tray for a healthy party snack.
Cupcakes
Cupcakes are always a hit at parties for toddlers, and you can make the snack even more enjoyable by letting the little ones decorate their own desserts. Bake cupcakes using food coloring-enhanced batter to showcase your child's favorite shade. Ice the cupcakes and give the young guests the option of adding sprinkles, edible glitter, cookie crumbles and chocolate candies to the treats. This will also serve as an interactive party activity for the toddlers during the celebration. Let the little ones eat the cupcakes after singing "Happy Birthday" to the guest of honor, or let the children take their desserts home as favors.
Cracker Pizza
Most toddlers love pizza, and you can make a mini version of the popular food using another toddler-friendly snack -- crackers. Spread a little pizza sauce on a circular butter cracker, along with a few shreds of mozzarella or cheddar cheese. Place the crackers in the microwave for about 20 seconds, or until the cheese melts. Alternatively, add a single piece of pepperoni to the cracker pizzas and place them in the oven at around 350 degrees until the cheese melts completely. These are a quick snack that are easy to make and sure to be a hit at the party, regardless of the celebration's theme.
References
Writer Bio
Tamiya King has been writing for over a decade, particularly in the areas of poetry and short stories. She also has extensive experience writing SEO and alternative health articles, and has written published interviews and other pieces for the "Atlanta Tribune" and Jolt Marketing. She possesses a Bachelor of Arts in English and is currently pursuing higher education to become a creative writing professor.
Photo Credits
Jupiterimages/Brand X Pictures/Getty Images