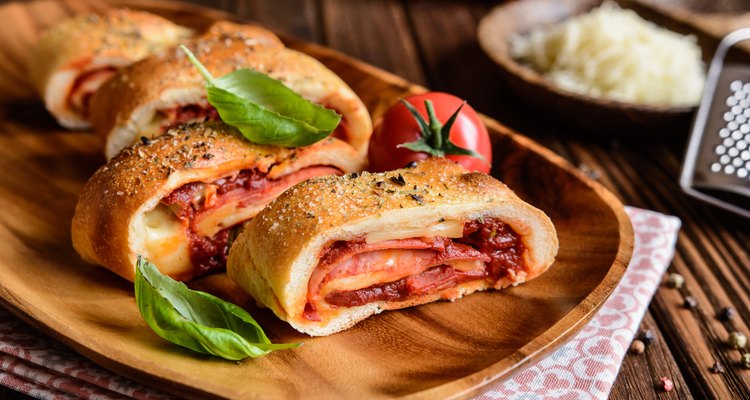 NoirChocolate/iStock/GettyImages
Cooking for your kids has many challenges and rewards, but sometimes it's fun to show off your culinary skills to your peers. One such opportunity is the office party, which turns lunchtime into a festive occasion. The trick is to find impressive snacks you can whip up easily, without adding extra stress to your daily routine at home.
Make it Mini
Miniature foods make for convenient munching while mingling with coworkers. Calzones are savory Italian turnovers. Using rounds of biscuit dough, cover one half with ricotta cheese, spinach and tomatoes. Fold the dough over for half-circle calzones. For variety, bake some calzones with a beef or turkey filling and others with vegetarian options. Miniature sandwiches are versatile enough for a large crowd. Make bite-sized grilled cheese for a playful lunch or use thinly sliced ham, Gruyere cheese and pesto for a gourmet feel.
Light Snacks
Snacks allow partygoers to eat lightly while enjoying a flavorful treat. Turn popcorn into a distinctive snack with the addition of spices, such as cayenne pepper and cumin. Serve the popcorn in cups or brown paper bags for easy snacking. Water chestnuts wrapped in bacon or prosciutto, a dry-cured Italian ham, provide a salty crunch. Chicken nuggets are anything but ordinary when baked with a slice of Swiss and ham wrapped around each nugget before breading. Place cut-up vegetables and a bowl of light creamy ranch dressing on the side for dipping.
Something More Substantial
For a casserole that brings back nostalgic memories of childhood lunches, combine frozen hash browns, cheddar cheese and seasonings in a casserole dish, topped with crushed cornflakes for a crunchy, cheesy dish. Meatballs are simple to prepare, whether store-bought frozen or prepared with ground beef, eggs and breadcrumbs. Meatballs taste especially delicious with the addition of sweet and sour sauce. For easy eating, arrange the finished meatballs on kebabs with fresh slices of bell pepper.
Memorable Desserts
Miniature cupcakes let your coworkers indulge in a treat without any guilt. Nix vanilla and chocolate and bake up simple but distinctive combinations, such as lemon cupcakes with fluffy meringue frosting or spice cupcakes with buttercream topping. Add a little fruit on top, such as a pear slice or a whole raspberry, for extra flavor and color. Smoothies are healthy and double as beverages. Ice, honey, bananas, oranges and coconut milk create a frothy tropical blend.
References
Writer Bio
Sally Murphy began writing professionally in 2000. She has worked as a writing instructor and written for various organizations and publications on topics ranging from history to hairstyles to television shows. Murphy graduated with a Bachelor of Arts in English and also holds a Master of Fine Arts in writing.