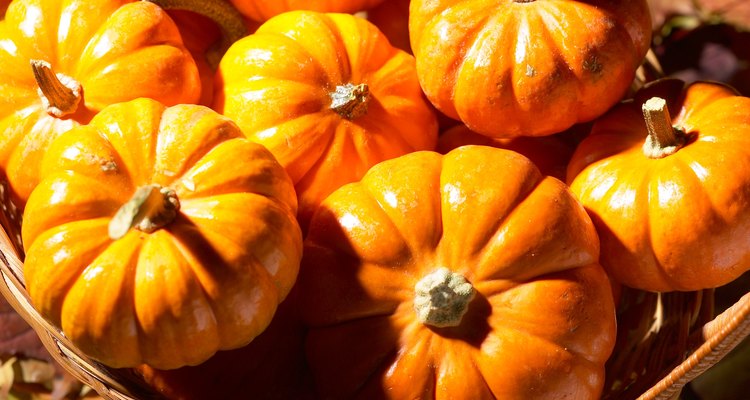 Hemera Technologies/Photos.com/Getty Images
A fall festival is a time to ring in autumn and the harvest. Food is an integral part of the festivities, but as with any holiday, you want to make theme-appropriate food for your kids without spending all of your time in the kitchen. A number of foods go perfectly with a fall festival and lend themselves to simple cooking. Preparing quick and tasty dishes with fruits, gourds, grains and other fall foods not only satisfies your children, but also lets them sample foods that have been harvested for generations.
Breads
Make breads featuring seasonal ingredients to give your kids a taste of fall. Zucchini bread is easy to make using zucchini, flour, eggs and other standard ingredients. Your kids will love the earthy, somewhat savory taste. Corn bread is also a simple and delicious way to welcome the season. It takes only 30 minutes to bake and is a welcome and hearty side dish for almost any meal.
Turkey
Turkey is an iconic fall festival food, but cooking a whole turkey takes all day and is anything but simple. Instead, buy a skinless, boneless turkey breast and roast it in the oven. If it is small enough, it can be ready in as little as 30 minutes. Serve the turkey with carrots and peas, cut it into strips and make sandwiches for your kids, or throw the meat into a pot and make turkey stew. Transform ground turkey into a delicious pot pie. Make it with onions, celery and chicken broth, and use a frozen crust to save time. Serve pot pie with a generous green salad topped with roasted pecans and your family's favorite dressings.
Chili
Chili is perfect for a fall festival because you can mix in many typical fall foods, such as corn and beans. Aside from chopping the veggies, chili takes minimal effort -- just let it simmer on low heat. Add celery, tomatoes, onions and carrots to round out the flavors. Include squash for a chili that is unmistakably autumnal, or incorporate ground beef, chicken or turkey for extra protein. If your kids can handle spice, add hot pepper flakes to give the chili some bite.
Pies
Round out your fall festival menu with a simple sweet pie that your kids will love. Pumpkin pie is the most obvious choice for a fall festival. Serve the pie with whipped cream on top for a delicious autumn treat. Bake an apple pie with rhubarb to continue the harvest theme. Flavor it with plenty of cinnamon and brown sugar, and use frozen pie crusts to save time. Enlist your kids to help you wash and chop the fruit to lighten your load even more.
References
Resources
Writer Bio
David Coodin began working as a writer in 2005, and has been published in "The Walrus." He contributes to various websites, writing primarily in the areas of education and art. Coodin holds a Ph.D. in English literature from York University in Toronto.
Photo Credits
Hemera Technologies/Photos.com/Getty Images