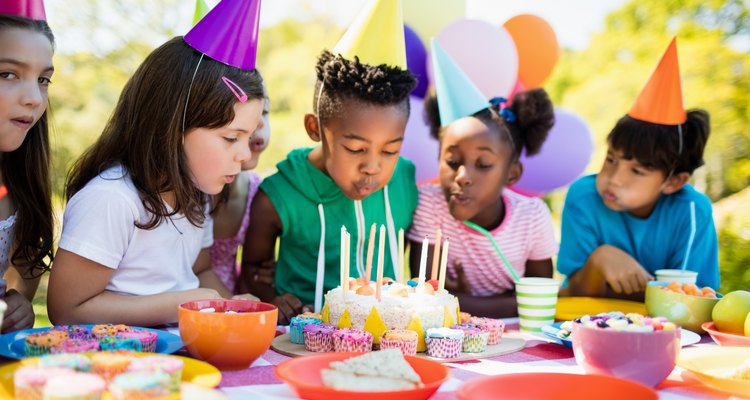 Wavebreakmedia/iStock/GettyImages
A brunch birthday party for kids is a clever way to get the celebration started early enough that families can still plan other activities for the rest of the day. A brunch menu may include both breakfast and lunch dishes, as the name implies, as well as finger foods for light snacking. Refreshments that look as good as they taste are important for any party, regardless of the guests' ages.
Spring Brunch
Make soft colors and flower-themed dishes the calling card of your spring birthday brunch for kids. Throw egg, milk, cheddar and ham into mini quiche shells for filling quiches the ideal size for small mouths. Use a flower-shaped cookie cutter to create floral strawberry jelly and cream cheese sandwiches. Ask your little one to help arrange apple and peach slices around a bowl of lemon yogurt so it looks like petals around the center of a flower. Arrange baby carrots like petals around cherry tomato centers and serve with a creamy dip to create a flower-burst veggie tray. Serve strawberry lemonade, juice and water to sate thirsty guests.
Summer Brunch
Juicy fruits and cool dishes are a vital part of any summer brunch for kids. Keep birthday party guests refreshed with grape, cantaloupe, honeydew and watermelon fruit salad. Use butterfly shaped cookie cutters to create themed pineapple slices. Serve cheddar bacon muffins and deviled eggs made with ranch dip mix to add protein to the spread. Stuff celery sticks with coleslaw dressing for a crunchy snack that also sneaks healthy vegetables into the brunch menu. Add lemonade and fruit smoothies to help keep guests cool.
Fall Brunch
Take inspiration from harvest foods to create a fall-themed menu for a birthday party brunch. Add apple cinnamon scones and mini cinnamon rolls to the menu for guests with a sweet tooth. Cut turkey and Swiss cheese croissant sandwiches into thirds, and spear with toothpicks for Thanksgiving-inspired finger sandwiches. Have the birthday child help you fill small glasses with layers of raisin granola and raspberry yogurt to create brunch parfaits. Set out hot apple cider to stick with the fall theme.
Winter Brunch
Warm up guests on a cold winter morning with a selection of muffins and meats hot from the oven. Place Canadian bacon over a poached egg on an English muffin slice, and sprinkle with parsley to create a hearty dish with holiday colors. Serve fresh orange and dried cranberry fruit salad to provide a snack with both sweet and tangy flavors. Add pumpkin spice muffins and coconut snowflake muffins to round out the brunch menu. Serve hot chocolate, as well as juice and water, to satisfy thirsty guests.
References
Writer Bio
A writer since 2000, Aya Pauli has covered a variety of topics including food, fashion, beauty, health, parenting, education, decor and crafts. Her award-winning recipes have been published in food magazines such as "Taste of Home," and she is also the author of a salad cookbook. Pauli's craft projects appear in major manufacturer websites, including Dow Styrofoam. She also holds a CDA in early childhood education and works as a preschool teacher in Wyoming.