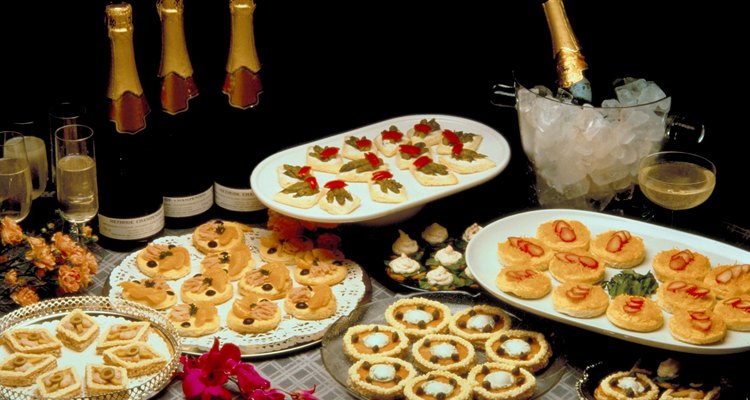 Jupiterimages/Photos.com/Getty Images
Hosting or throwing a wedding anniversary party involves plenty of planning. Regardless of whether the event will have a formal or casual meal, you will need some finger foods to keep your guests full and satisfied. Choosing finger foods for a 50th wedding anniversary event should mix traditional and modern food options so every guest can find something to savor.
Hot Foods
Hot foods, especially those served on hot plates and with toothpicks or skewers inserted can make filling and hearty finger foods; suitable the occasion. Some options include miniature hot dogs wrapped in puff pastry, bite-size sausage pieces in a sweet and sour sauce, and warm quiche cut in to small pieces. Use ingredients to suit the tastes and preferences of the couple being celebrated, to make the food array more special.
Cold Foods
Use cold foods as finger foods to help bulk up the culinary offerings at an anniversary party. For a 50th anniversary, choose more traditional foods. A tray of assorted cheese cubes and crackers can make for a portable finger food. Place an assortment of mustards beside the cheese tray to give guests an extra boost of flavor. Offer a wide variety of cheese, ranging from mild to sharp. Cut cheese into the numbers "5" and "0" to keep the theme going. Place pickled vegetables in bowls with a bowl of toothpicks nearby to give guests an old-fashioned finger food choice. Good choices include pickled beets, green beans, cauliflower and cucumbers. Put out some pickled eggs, another traditional finger food.
Sandwiches
Create finger sandwiches featuring an assortment of meats and cheeses. Use a variety of breads and toppings to make a wide array of choices. Options include ham, Swiss cheese and spicy mustard on rye bread and turkey, American cheese and mayonnaise on wheat bread. Shape the sandwiches with cookie cutters and choose shapes such as hearts and stars to keep the anniversary theme alive. An alternate way to cut up the sandwiches is to use numerical cookie cutters. Make the sandwiches in the shape of "5" and ''O" -- or you can use letters to shape sandwiches to spell out the last name of the couple being celebrated.
Sweets
Cookies cut in a circular shape and frosted with gold icing can serve as one dessert item to celebrate a 50th wedding anniversary. Additional sweet treats include chocolate truffles with the number "50" drawn on top in gold frosting, hard wrapped candy from the year the couple was married and cupcakes decorated to match the original wedding cake. If possible, add a photo of the original wedding cake beside the dessert table. It will help bring the theme together and bring back fond memories for the couple.
References
Photo Credits
Jupiterimages/Photos.com/Getty Images