An outdoor country wedding combines casual charm with the elegance of a marriage celebration, and there are lots of ways to make this theme come to life. One major aspect of an outdoor country wedding is the food offered during the reception; you want the menu to fit the theme as well as please the guests.
Beverages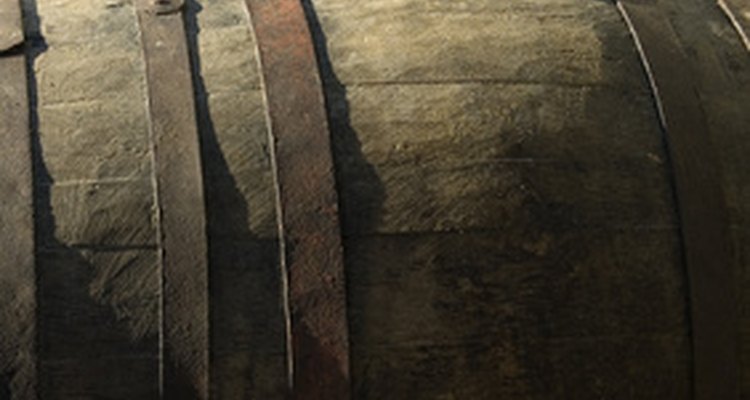 old barrels image by Serghei Velusceac from
Fotolia.com
Fill washtubs and barrels with ice and use them to hold beverages in glass and plastic bottles, such as lemonade, soda and water. The self-service aspect of the drinks will make serving the meal easier for the couple planning the wedding, and is perfect for a country wedding. Include large pitchers of iced tea and apple cider, two must-have country beverages, and coolers full of ice. If you plan to offer alcoholic beverages, maintain a separate, supervised washtub for distribution.
Appetizers and Sides
A country-themed wedding calls for traditional soul foods and Southern fare. Treat guests to side dishes like fritters, biscuits, cornbread and garden vegetables. Green beans, fried tomatoes and corn on the cob are also traditional country dishes. Use baked beans and potato dishes to complete the spread. Large bowls of tossed salad are welcome at any meal. To offer the freshest ingredients, buy your ingredients from local farmers.
Main Dishes
Complete your country wedding menu with pulled pork, barbecued ribs, fried chicken or another classic Southern dish. Pot roast and roast chicken are also popular country meat dishes. Include a seafood dish, like fried oysters and battered fish, for guests who may not eat red meat. Egg salad and pasta salad, when made without bacon or meat products, are both classic country dishes and perfect vegetarian options. Remember to offer sauces like brown gravy and barbecue sauce, because no country feast would be complete without them.
Cake and Dessert
Incorporate traditional farm flavors into the wedding cake (spice, carrot and pumpkin are all good choices) and decorate it with edible flowers to create a nature-based look. To celebrate the outdoors and the country theme, include classic fruit pies on the dessert menu. Place self-serve jars of honey and jelly on each guest table to pay homage to the theme.
References
Writer Bio
K. C. Morgan is a professional freelance writer, with articles and blog posts appearing on dozens of sites. During her years of writing professionally, K. C. has covered a wide range of topics. She has interviewed experts in several fields, including celebrated psychoanalyst Frances Cohen Praver, PhD; television personality and psychotherapist Dr. Robi Ludwig; and entrepreneur Todd Reed.
Photo Credits