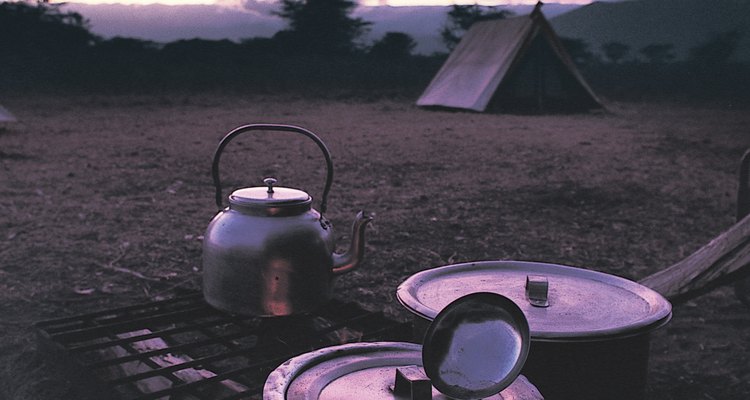 Comstock/Stockbyte/Getty Images
A Wild West party gives you plenty of menu options, whether you style the party with red velvet and bar stools as a Western saloon, create Gold Rush scenes with panning tools and "gold" nuggets or decorate with cowboy hats and stirrups for round-up decor. Your guests won't want the absolute authenticity of squirrel or bear meat, but they will appreciate traditional foods and historic references. Feel free to mix a variety of Wild West styles or stick with one theme.
Chuckwagon Specials of the Day
Flavorful, marinated steak and a potful of chili or well-seasoned beans form the mainstay for a cowboy-inspired Wild West menu. Set out bowls of jerky and corn nuts for appetizers, and provide both beer and root beer as beverages. For side dishes, serve a rustic coleslaw or a green salad with green onions, watercress or herbs that a chuckwagon cook might gather along a stream bed. Serve biscuits, sour dough bread or corn bread with the meal and finish with an apple pie.
Upscale Western Saloon
Even if you don't serve whisky at your party in a Wild West saloon, serve ginger ale, beer or root beer in small shot glasses and glass mugs. Oysters, served either on the half shell or fried, work as either an appetizer or part of the main course, since they were popular in 19th-century America. Other possibilities for saloon food include hard boiled eggs, pickles, smoked trout or sardines with rustic bread and chicken nuggets labeled as "rattlesnake."
Dining With Buffalo Bill
To invite Buffalo Bill to your party, create some posters of his Wild West Show, reproduce quotations from his autobiography and serve some of the foods he ate with his scouts and Indian contemporaries. Ideas include bread cooked on a stick over a campfire, dried apples, buffalo meat and bacon. For modern variations, use prepared crescent roll dough for bread on a stick, include dried apples in apple fritters or turnovers and serve bison burger sliders topped with bacon.
Serve These If You Dare
Western cowboys and miners ate a few unique foods that can make your party unique as well. Hangtown Fries, similar to an omelet or frittata with fried oysters, originated when a condemned man tried to delay his hanging by asking for fresh eggs. Cut your Hangtown fries in wedges for easy serving. While you may not want to serve mountain oysters, deep fried calf or lamb testicles, you could serve an approximation of the Western treat with fried chicken livers or fried clams labeled as mountain oysters.
References
Writer Bio
Susan Lundman began writing about her love of cooking, ingredient choices, menu planning and healthy eating after working for 20 years on children's issues at a nonprofit organization. She has written about food online professionally for ten years on numerous websites, and has provided family and friends with homemade recipes and stories about culinary adventures. Lundman received her M.A. from Stanford University.
Photo Credits
Comstock/Stockbyte/Getty Images