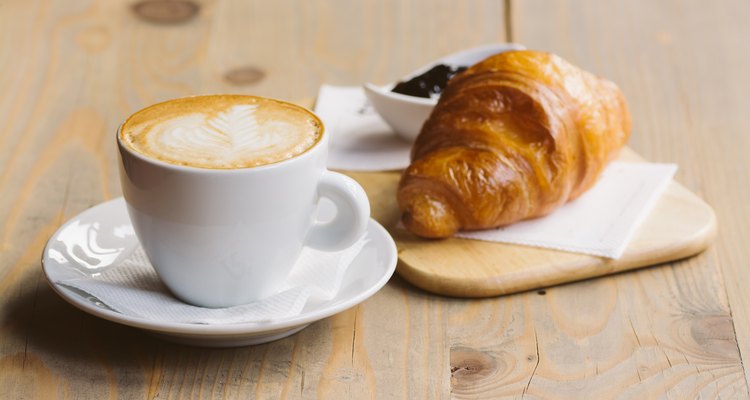 Igor Sinkov/iStock/GettyImages
Hispanic is a term often used to describe people of Latin American descent. While Hispanic people, particularly those living in non-Latin countries, may not eat traditional Latin American breakfasts, Latin American countries have certain foods and beverages that are served as typical breakfast fare.
Breakfast in Mexico
Mexicans traditionally eat a hearty breakfast, which can include a combination of fried or scrambled eggs, tortillas, refried beans and chorizo. Different regions of Mexico feature signature dishes such as the Yucatan's huevos motulenos, a dish of a tortilla topped with refried beans, spicy tomato sauce, fried egg and cheese. Another common dish is huevos a la Mexicana, which features scrambled eggs with onion, tomatoes and green peppers to match the color of the Mexican flag.
Central America and the Caribbean
The typical breakfasts of Central America and the Spanish-speaking nations of the Caribbean feature some of the same staples as those of Mexico, though each country has its own style. In Honduras, breakfast usually consists of a baleada, a large flower tortilla filled with refried beans, a creamy cheese, avocado, and ground beef. Costa Ricans and Nicaraguans typically eat gallo pinto, a breakfast of rice and beans mixed with scrambled eggs and tortillas. The Guatemalan breakfast, known as desayuno Chapin, combines beans, eggs and tortillas with fresh fruit, local cheese and sautéed plantains. In the Dominican Republic, mashed plantains, or mangu, are usually served with breakfast in addition to eggs, beans and tortillas.
Andean Region
The Andean region of South America, which includes Colombia, Ecuador, Bolivia and Peru, has its own breakfast traditions with many regional variations. On weekends in the Arequipa region of Peru, for example, many people eat adobo, a stew made of pork, vegetables and spices served with chicha, a fermented corn drink, and bread. In parts of Bolivia, bunelos, which are similar to fried donuts, are popular in the morning, as are fried empanadas. Colombians typically eat eggs, sausage or beef and beans served with arepas, which are small cornflower patties. Humitas, savory steamed corn cakes, are a breakfast tradition in Ecuador.
Southern Cone
Argentina, Uruguay and Chile comprise the Southern Cone, where breakfast is considerably lighter than in many parts of Latin America. In both Argentina and Uruguay, breakfast is usually just a few miniature croissants called medialunas and a café con leche or tea. Sometimes medialunas are filled with ham and cheese. Toast topped with dulce de leche, a sweet caramel spread, is also popular. Chileans normally eat a light breakfast of toast served with mashed avocado, cheese and tomato. Fresh fruit is often served at breakfast in Chile.
References
Writer Bio
Charlie Higgins is journalist, editor and translator based in Buenos Aires, Argentina. He has written for a variety of lifestyle and niche market websites, including International Food Trader, The Olive Oil Times, microDINERO, Sounds and Colours, Connecting Worlds and The Buenos Aires Reader.