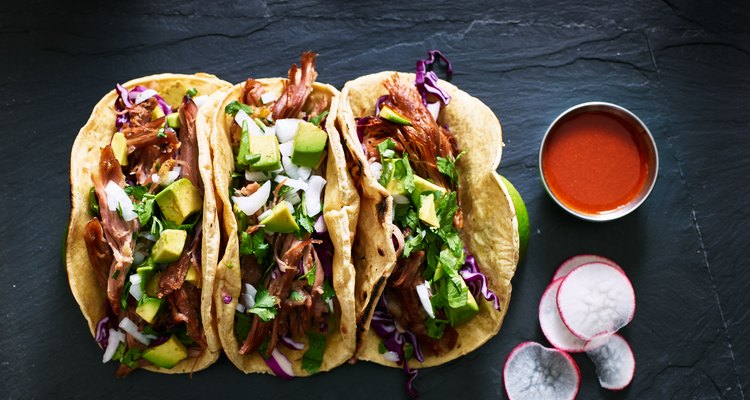 rez-art/iStock/GettyImages
El Toro is a Mexican restaurant chain that has been in Texas since 1960, according to the restaurant's website. The chain has a number of locations throughout Texas, and offers grilled entrees, traditional Mexican favorites and appetizers.
Although many of the dishes at El Toro feature ingredients that are healthy on their own — such as meat and beans — the combination of these ingredients may result in a high-calorie meal.
Flour Tortillas
Many of the dishes at El Toro feature flour tortillas as a base. This ingredient is used for soft tacos, burritos and quesadillas, among other items. Flour tortillas can range from 81 to 190 calories, depending on their size.
Each tortilla also ranges in fat (zero to five grams), carbohydrates (15 to 33 grams) and protein (three to five grams). Although each flour tortilla is not very high in carbohydrates, you may wish to avoid dishes with multiple tortillas if you are on a low carbohydrate diet.
Mexican Rice
Mexican rice is a common side dish for entrees at El Toro. Mexican rice is a high carbohydrate food, with 48 grams of carbohydrates per cup. Each cup contains approximately 250 calories, with 4.5 grams of fat and five grams of protein. This is another menu item that would be inappropriate for a low carbohydrate diet.
Cheese Nachos
One of the appetizer options at El Toro is the cheese nachos. This dish is as high, or higher than, some entrees in calories and is not a diet-friendly dish. Each serving of cheese nachos is 274 calories, with 17 grams of fat and 28 grams of carbohydrates. Keep in mind that is for one serving size — and most people who order a plate of nachos eat much more than a single serving.
Chicken Fajitas
Chicken fajitas are a tortilla-based meal that provide vegetables, chicken and cheese. Each chicken fajita contains 270 calories, with nine grams of fat, 22 grams of protein and 27 grams of carbohydrates. Chicken fajitas are a high protein and low fat choice at El Toro.
Bean Burrito
Bean burritos are high in carbohydrates and are one of the few vegetarian options at El Toro. According to MyPlate, one bean burrito contains 290 calories, eight grams of fat, 45 grams of carbohydrates and eight grams of protein.
References
Writer Bio
Brian Willett began writing in 2005. He has been published in the "Buffalo News," the "Daytona Times" and "Natural Muscle Magazine." Willett also writes for Bloginity.com and Bodybuilding.com. He is an American Council on Exercise-certified personal trainer and earned a Bachelor of Arts in journalism from the University of North Carolina.