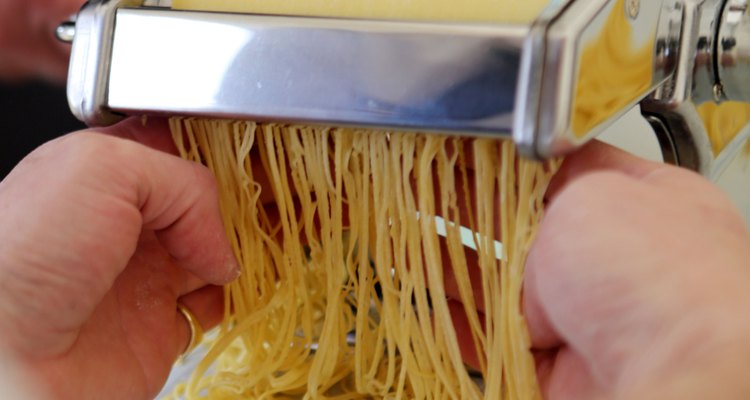 suzieldk/iStock/Getty Images
In 2009, Domino's Pizza unveiled a new line of pasta bread bowls. While a unique concept, pairing carb-heavy foods like pasta and bread results in significant calories.
Varieties
As of November 2010, Domino's pasta bread bowls come in several varieties, including Three Cheese Mac-N-Cheese, Chicken Carbonara, Chicken Alfredo, pasta primavera and Italian Sausage Marinara.
Calories
According to the Domino's Pizza website, an entire Domino's Chicken Carbonara pasta bread bowl has the most calories at 1480, followed by the Three Cheese Mac-N-Cheese and the Italian Sausage Marinara bowls at 1460 calories each, the Chicken Alfredo at 1400 calories and the Pasta Primavera at 1340 calories.
Nutrition
Not surprisingly, Domino's pasta bread bowls have their share of carbohydrates and fat. The Pasta Primavera bread bowl contains 188 g of carbohydrates and 48 g of fat, followed by the Chicken Alfredo at 186 g of carbs and 52 g of fat, the Italian Sausage Marinara at 194 g of carbs and 54 g of fat, the Chicken Carbonara bowl at 188 g of carbs and 56 g of fat, and the Three Cheese Mac-N-Cheese bowl at 190 g of carbs and 56 g of fat.
References
Writer Bio
William Lynch has been a freelance writer for the past fifteen years, working for various web sites and publications. He is currently enrolled in a Master of Arts program in writing popular fiction at Seton Hill University. He hopes to one day become a mystery novelist.
Photo Credits
suzieldk/iStock/Getty Images