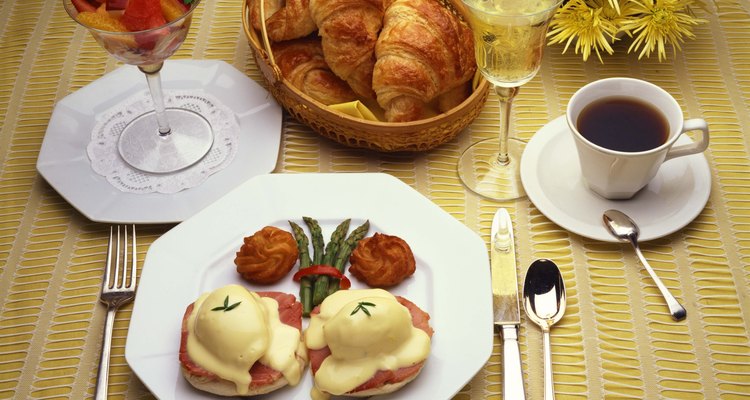 Jupiterimages/Stockbyte/Getty Images
A bowl of cereal sloshed with milk may be a healthy and filling breakfast, but it's not much to look at. Naked scrambled eggs sitting on a plate ask for a bit of color to wake them up. Brighten up that all-important first meal of the day with garnishes to perk up your appetite. It only takes a minute or two.
Fruit and Vegetables Hint at What's to Come
Echo the ingredients in the breakfast dish with the garnish. For example, a strawberry smoothie sports a fresh strawberry on the rim of the glass. Garnish a mushroom and spinach omelet with a fresh mushroom accented with two or three spinach leaves. Score the top of the mushroom in a pinwheel pattern. Place the omelet on a bed of spinach peeking out around the edges of the omelet. Create a rose out of a tomato for eggs cooked with tomatoes and cheese. Cut a boiling onion in a cross hatch pattern from the top down but not through the root end. Soak in ice water until the onion "flower" opens up. Serve with an onion and cheese quiche.
Herbs and Flowers Add Color
Go beyond that tired sprig of parsley. For a special occasion breakfast -- say Mother's Day -- add a garnish of edible flowers such as nasturtiums which have a spicy flavor, pansies which taste faintly sweet or roses. The flowers must be sold as edible rather than from the florist section. Those flowers are often sprayed with insecticides and fertilizers. The greenery of herbs perks up breakfast dishes. Arrange a spray of tarragon across a cheese omelet. Add a few mint leaves to a fresh fruit compote. Serve the compote in a hollowed-out melon or individual servings in hollowed out oranges.
Syrups and Sauces Do Double Duty
Make syrups and sauces do double duty by adding flavor to the dish and as a garnish. Instead of dumping maple syrup on top of French toast, draw scallops of syrup on the plate and place the toast in the middle of the scallops. Repeat the scallops on top of the French toast. For savory egg dishes, use sour cream and salsa in a yin and yang pattern on side of the plate.
Spices and Sugars Add the Finishing Touch
Sugar sparkles and spices contrast with breakfast foods. Sprinkle ground cinnamon or cocoa powder over that bowl of cereal. Dust confectioner's sugar over waffles. Try cocoa powder to dust a dollop of whipped cream on a cup of coffee. Deep red paprika has a mild taste but its bright color jazzes up eggs Benedict. If you want a hint of heat use cayenne pepper instead of paprika on sunny-side up eggs.
References
The Art of Cooking; Arnold Zabert
Writer Bio
Katie Jensen's first book was published in 2000. Since then she has written additional books as well as screenplays, website content and e-books. Rosehill holds a Master of Business Administration from Arizona State University. Her articles specialize in business and personal finance. Her passion includes cooking, eating and writing about food.
Photo Credits
Jupiterimages/Stockbyte/Getty Images