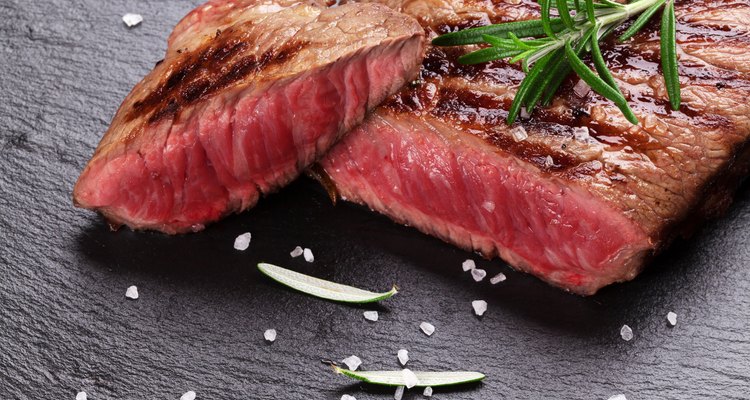 karandaev/iStock/GettyImages
Flavorful and lean, sirloin top butt steaks are highly versatile cuts of meat. Taken from the top sirloin located between the short loin and the round, the steaks have a richness that compares to pricier cuts of beef. The steaks are sometimes just referred to as top sirloin, and can take center stage is entrees from all around the globe, whether you're in the mood for something a little spicy or a hearty dish of comfort food.
Savory Stews and Stroganoff
Top sirloin butt steaks have the perfect amount of tenderness for a variety of stews, soups, chilis and beef stroganoff. Rather than using ground beef in your next batch of chili or soup, cook it with top sirloin steak. Simply add the steak to the rest of the ingredients and let the flavors mingle as it cooks. Before serving, cut the steak into bite-sized pieces. For stroganoff, combine fresh mushrooms, onion, sour cream and beef broth with browned sirloin steak cut into bite-sized pieces to create the dish, best served over egg noodles.
Meaty Mediterranean Meals
Cube sirloin top butt steaks into bite-sized pieces and then line them up on skewers with vegetables for Mediterranean-inspired kabobs. Sirloin partners well with mushrooms, onions, bell peppers and cherry tomatoes. A simple seasoning of olive oil and salt and pepper is all you need for this dish. If you're feeling a little more adventurous, add mint to the sirloin as a marinade with olive oil. Serve with a tzatziki-style dip made from Greek yogurt, garlic, diced cucumbers and fresh dill.
Classic Asian Cuisine
Stir-fry fresh broccoli and strips of sirloin steak together with sesame oil, ginger and soy sauce for a classic main course of beef and broccoli. Create Korean beef bulgogi by marinating and cooking sirloin strips in honey, sugar, Korean red pepper paste and sesame oil with some Asian spices. Sear the steak on a hibachi grill until well done. Serve on large fresh lettuce leaves to help balance out the sweet spiciness of this dish. For a quick meal, marinate your sirloin in ginger and lime juice before stir-frying and serving over white rice.
All-American Favorites
Few people can pass up a hearty steak sandwich on a fresh hoagie roll. Grill sirloin top butt steaks to your preferred doneness and then slice on a diagonal. Stack Boston Bibb lettuce, Roma tomatoes and sliced steak on the roll and add your favorite condiment for a laid-back lunch. Make chicken-fried steak nuggets that even little diners will love by cutting the sirloin into nugget-sized pieces, dredging it in an egg mixture and covering it in flour. Fry the nuggets in hot oil and serve with cream gravy with a side of mashed potatoes.
References
Resources
Writer Bio
Meg Winkler began professionally writing in 2008. She has covered a variety of topics including fine wine, interiors, the arts, lifestyle and history. Winkler has been a luxury publications editor and music critic. She is an independent author and holds a Master of Arts from American Military University.