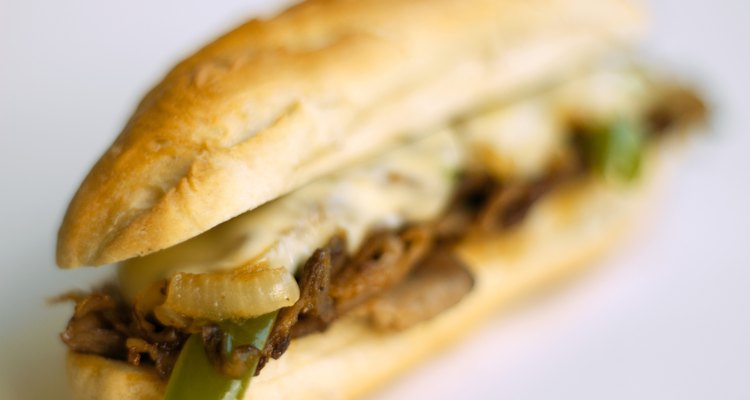 Ciaran Griffin/Stockbyte/Getty Images
Filet mignon is a high-quality beef steak cut from the tenderloin. It's nearly fat-free and extraordinarily tender if not cooked above medium-rare doneness. Leftover filet mignon can be used in a variety of dishes, depending on whether your extra steaks are cooked or raw. In either case, slice it across the grain to maintain its tenderness.
Philly Cheesesteak Sandwich
Skirt or hanger steaks are the traditional cuts for Philly cheesesteak sandwiches. These thin beef cuts remain tender if properly cut and quickly sauteed. You can substitute them with either cooked or raw filet mignon, cut across the grain, and briefly sauteed in a hot skillet. Remove the beef from the pan, saute a handful each of thinly sliced onion and fresh mushrooms, and pile all the components on a French roll for a superb sandwich. Top with cheese and peppers for extra flavor.
Beef Stroganoff
For a quick and elegant dinner entree, saute thinly cut cooked or raw filet mignon in a hot skillet for a minute or so. Remove the meat from the pan and cook sliced mushrooms and thinly sliced onion until soft. Add the meat back to the pan, season with salt and pepper, and pour in about 1/2 cup of beef broth for each sliced steak. Stir in sour cream and gently heat through. Serve over egg noodles or rice.
Chicken-Fried Steak
You'll need raw filet mignon to make chicken-fried steak. Tenderized top round or minute steaks are generally used for this recipe but filet mignon elevates it from simple country fare to an upscale breakfast or dinner dish. Gently pound the steak with the flat side of a mallet to about 1/2 inch thick. Season the steak with salt and pepper, barely flour it on both sides, and quickly saute on both sides in a scant amount of oil in a hot skillet. Remove the steak, make a roux with the pan drippings, and add milk to create rich, creamy gravy. Serve the steak alongside hot biscuits or mashed potatoes with gravy ladled on top.
Steak Tartare
Raw filet mignon is used to make steak tartare. Chill the steak in the freezer for about 45 minutes to make it easier to chop into a coarse 1/8-inch dice. Season the beef with a mixture of extra virgin olive oil, egg yolk, rinsed capers, minced red onion and Thai chili, kosher salt and fresh, coarsely ground pepper. Serve with a side of Dijon mustard. For Korean-inspired steak tartare, use scallions instead of red onion, omit the capers, chili and salt, and add soy sauce, toasted sesame seeds, toasted sesame oil and finely grated fresh garlic to the chopped beef.
References
Writer Bio
Cassie Damewood has been a writer and editor since 1985. She writes about food and cooking for various websites, including My Great Recipes, and serves as the copy editor for "Food Loves Beer" magazine. Damewood completed a Bachelor of Arts in English with an emphasis in creative writing at Miami University.
Photo Credits
Ciaran Griffin/Stockbyte/Getty Images