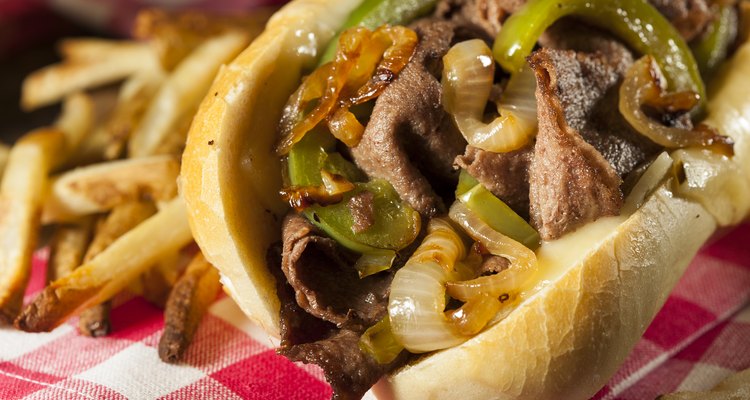 bhofack2/iStock/GettyImages
Chicago Here We Come: A Fenway Park Special
Italian beef sandwiches are a serious crowd-pleaser, the perfect meal to serve at a picnic or a ballgame. Traditionally made by slowly roasting beef on a rack above a pan full of seasoned broth or au jus, it was originally an Italian takeoff on the French dip sandwich. Once cooked, the meat is soaked in the juices, then sliced very thinly and served on a Italian roll with toppings.
This slow-cooked version cooks the meat directly in the juices in a Crock-Pot, which simulates the way the traditional recipe steams the meat in juices and, rather than slicing the meat thin, it is shredded. Because the meat cooks so long, it becomes very tender and flavorful.
And if you do find yourself and your family at Fenway without your home-cooked Italian beef hoagies, head to the Big Concourse, where Chicago butcher shop Savenor's serves up the traditional version topped with mozzarella and giardiniera.
Total Time: 6 to 10 hours | Prep Time: 15 minutes | Serves: 4 to 6
3 to 4 cups beef broth
1 teaspoon each salt and pepper
1 teaspoon each dried oregano, basil, parsley, onion powder and garlic powder
1/2 teaspoon red pepper flakes, or to taste
1 bay leaf
1 (0.7-ounce) package dry Italian salad dressing mix, any kind (Good Seasons is usually available and works well)
1 cup sliced pepperoncini peppers, hot or mild

3-pound chuck roast
In a saucepan with heat on medium, mix together the beef broth, salt and pepper, all spices, dried salad dressing and pepperoncini peppers. Bring to a boil.
Place the roast in the Crock-Pot, and pour the broth mixture over the meat.

Cover, and cook on low for 8 hours or on high for about 5 hours.
Remove the meat from Crock-Pot and shred, using a pair of forks or a fork and knife. Return the shredded meat to the Crock-Pot, with heat on low.
Cook another hour so the meat can soak up the juices.
Remove bay leaf, and serve.
References
Writer Bio
Lynne Pettus has worked in the communications field for more than 20 years, most recently as a technical writer and editor in the software industry. She has a Bachelor of Arts in journalism from USC.